Benro Rhino tripod review
It's been a pretty miserable year. Fair to say, let's just right off 2020 as a whole but despite all this, we've had some small windows with some pretty amazing conditions.
April - July clear warm nights gave us plenty of opportunities for astro photography. Then we were graced with comet NEOWISE over Summer and in to Autumn we've had mixed conditions but as a whole, most have had some fun and almost all occasions have required a tripod to capture these events.
So, it's not all a right off and with that in mind, the photographic brands have been busy of course. The show must go on as they say and amongst the chaos and excitement of new products, Benro have released a toughened range of tripods, ranging from £200-£290 in various heights and weights to cater for several requirements.
The new Benro Rhino Tripod is packed full of features to make life easier and lighter without a premium price. The Benro Rhino 34CV - VX30 tripod and ballhead combo I have to review, instantaneous feels solid in the hand and a great bit of kit to use. Some of the features were fantastic, some will take some getting used too.
So, is this £300 tripod really as tough as a Rhino, is it worth the purchase?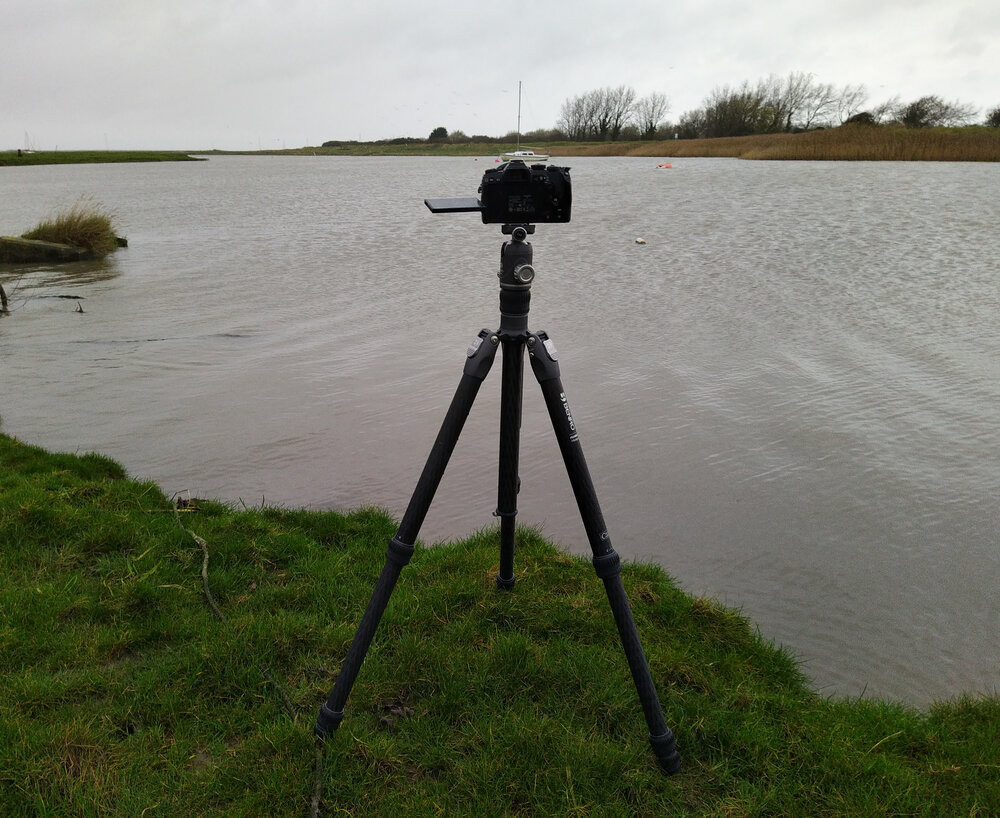 What Benro say about the new Benro Rhino tripod series.
The new series features four precision-engineered models, bursting with thoughtful details and specialist design destined to make them a sure favourite among photographers of all persuasions.
The range offers something for every photographer, whether travelling and navigating tricky, uneven terrain or working with a complex studio set up. The smallest of the new tripods weighs just 1.2kg with a maximum capacity almost 10 times that of 10kg and measures just 35cm when folded. The largest stands over 170cm when fully extended and supports a max payload of 20kg, making it more than capable of supporting even the bulkiest of camera units along with a range of additional kit for studio shoots.
The design of the Rhino series retains all of the features users have come to expect from Benro, including quality materials, versatility of design and reliability; while taking a fresh look at every element of tripod design, resulting in many intricate adjustments which significantly improve performance and user experience. Designed for the most prolific and discerning photographers, for whom even the smallest design elements can have a big impact, the Rhino range is packed full of features that represent the pinnacle of Benro's engineering pedigree. These include:
Significant reduction of overall weight with no loss of quality or performance
New braided carbon fibre tube design allowing for improved weight capacity, plus the ability to attach accessory arms to the main tripod casting via three 3/8" threads
Auto-hold trigger making it easier than ever before to adjust tripod leg angles
Lengthened centre column locking mechanism to improve locking strength
Ergonomic grips to improve operation of twist leg locks
Three step self-adaptive rubber feet to improve stability
The new models all retain much-loved Benro design elements such as reverse folding legs and easy conversion to monopod for ultimate versatility.
Rhino tripod kits feature three new Benro VX ball heads offering elegant, simple, lightweight design with feature-packed specification. Performance elements include:
Significantly streamlined, simplified design to reduce weight and create an efficient, high performance head
Dual panoramic function: both the base of the head and the camera release platform offer 360o pan movement
Newly designed QR platform and Arca-compatible plate to reduce weight with no loss of performance
Safety catch to prevent accidental plate removal
Key Features: (00CV = legs / VX00 = Ball head)
5 sections / Max tube = 21.8mm / Min tube = 9mm / Max height with column = 1395mm / Min height = 350mm / Folded height = 350 / Weight = 1.24kg / Payload 10kg
4 sections / Max tube = 25.2mm / Min tube = 15mm / Max height with column = 1645mm / Min height = 465mm / Folded height = 475 / Weight = 1.46kg / Payload 16kg
4 sections / Max tube = 28.6mm / Min tube = 18.4mm / Max height with column = 1690mm / Min height = 485mm / Folded height = 490 / Weight = 1.74kg / Payload 18kg
4 sections / Max tube = 32.4mm / Min tube = 21.8mm / Max height with column = 1745mm / Min height = 491mm / Folded height = 494 / Weight = 2.06kg / Payload 20kg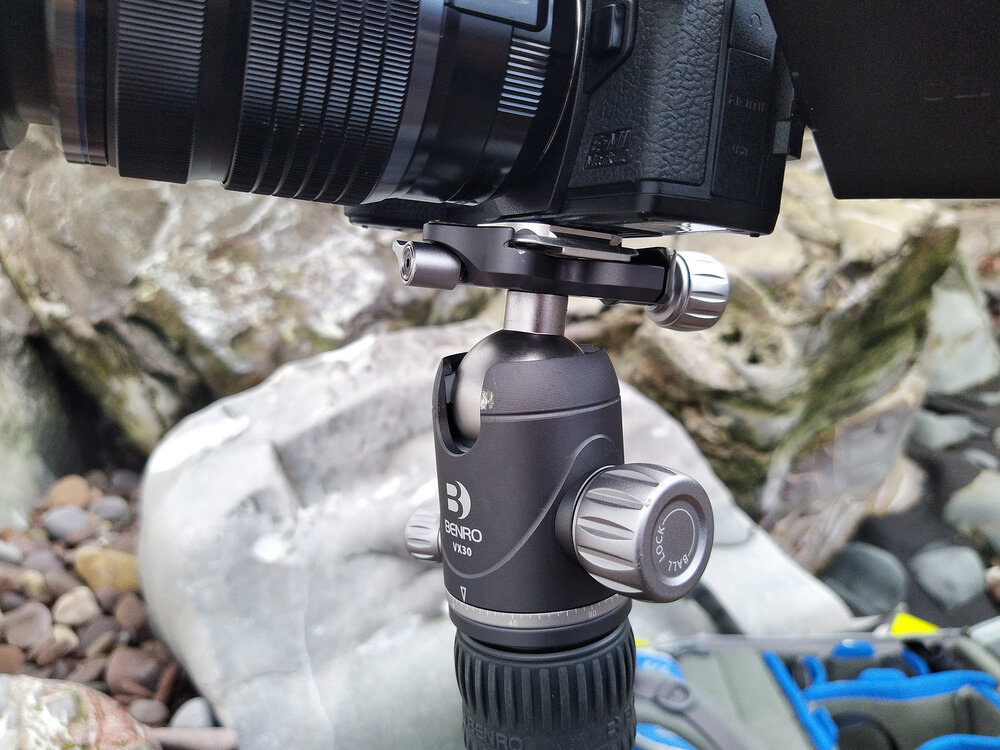 What's the difference between the Benro Rhino tripods, Benro Bat tripods and Benro Tortoise tripod kits?
First the Benro Bat series. Similar to the Benro Rhino tripod kits, the Bat tripod kits have reverse folding leg technology to fold the tripods in to a shorter, travel friendly method inside the carry case.
The major difference between these two tripods is the leg angle locking points, in that the Benro Bat tripod kit has more leg angle locking points.
You can actually lock the legs in an upright position. All you as the operator to have two legs angled up, leaning against a wall and a third leg on the ground. Perfect for working in confined spaces like a corridor.
The Benro Tortoise tripod kits use traditional folding legs but have no centre columns. However, extendable columns are available to attach to provide additional height if required.  The Benro Tortoise tripods have a different head to the Benro Rhino and Benro Bat tripod kits. This being a new GX low profile head which performs the same functions as the VX tripod heads but with a lower centre of gravity and higher weight capacities.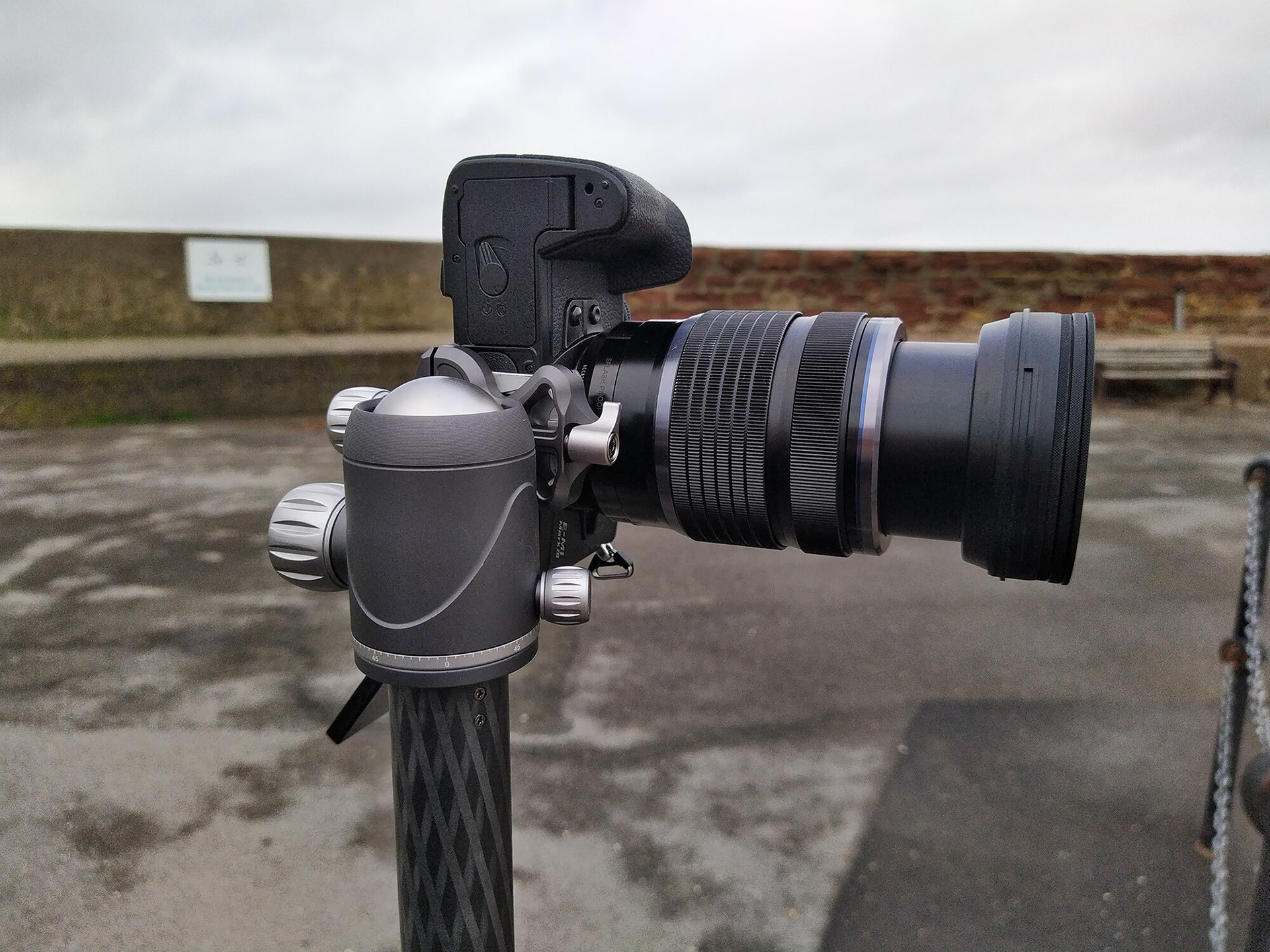 Let's get the newest feature which took some getting used too. The new leg adjustment button. A big shiny metal plate, embellished with the Benro stamp. It's not the usual method you see on tripods which is traditionally just a click or slide of a lever/button but the new Rhino has a button to lock the button in place.
It's another step in the process and some what unnatural for me but after a few outings with the tripod I quickly got used to the new adjustment buttons. When I spoke to Benro UK why this method. They acknowledged it was different and many would find some getting used too but the reason for it was for a smoother control on the leg adjustments. Giving the user the flexibility to make micro adjustments, without the stiffing of the button as previous.
The best new feature on the Benro Rhino tripods is the ball head. A shiny new VX ball head for thr whole range. From the top to the centre column, you can see areas where metal and material has been removed to save weight and give an overall more compact tripod. The ball head has multiple gears to control the pan, angle and rotation but the great new feature I like is on the Acra swiss head. A little lever located by the bubble level which is used to rotate the head independently from the lower ball head and legs. Perfect for panoramic moments and removed the need for specialist ball heads. It's literally a pin on an axis but it's small, convenient and well placed to quickly deploy for those panoramic opportunities.
The ball head as a whole feels solid. The knobs for rotating the pan or axis don't slip or come loose with use, this includes in wet conditions too. The size of each makes it easy to feel about and not paying attention/looking which is what. Little is for rotating, large is for tilt and axis. As for the panoramic rotation, this is out of the way so you won't have any difficulties in knocking it in the field.
Finally, the ball head locking system to ensure your camera doesn't fall off. Probably one of the most crucial elements! A tripod is pretty pointless if it can't hold a camera after all. The locking nut for the ARCA plate is new as well. It's not your traditional, keep turning knob until it feels locked. Instead, it has various stops in between to ensure it's never twisted by accident without pulling the lever out and rotating. In the years I've used tripods, I've never had an issue with the traditional locking method but it's a nice insurance to know this new system has a fail safe for accidental slips.
One final point, of course the ball head has a bubble level and degrees marked out. Nothing new hear and a must for any tripod nowadays, especially a tripod with a sum of £200 plus.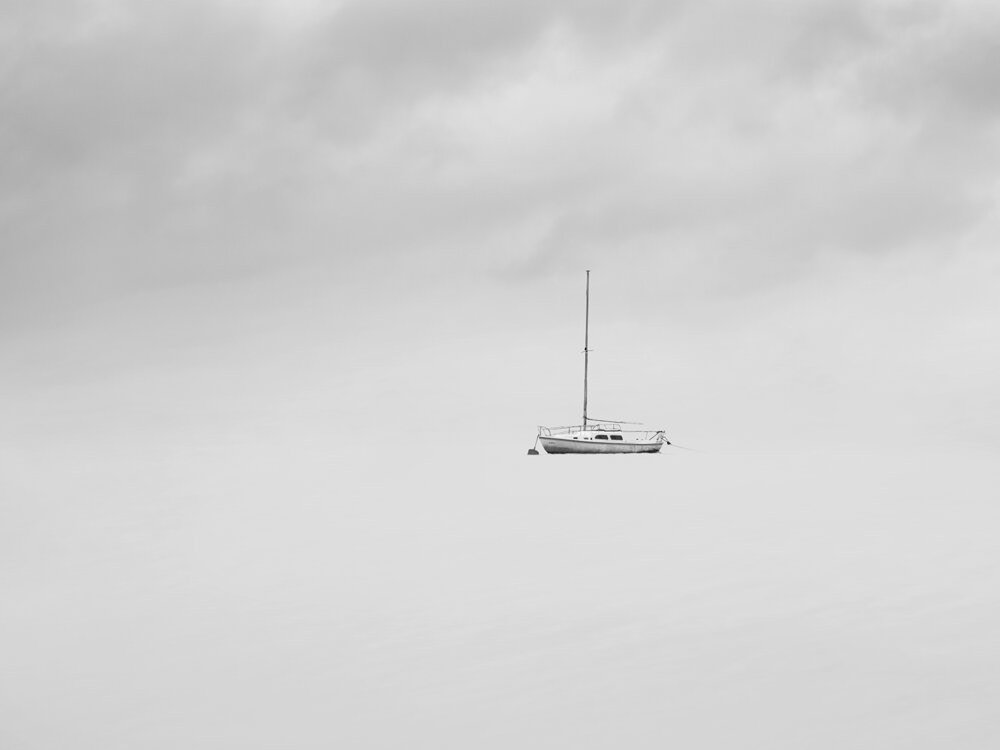 The centre column has had a redesign, or rather addressed some issues.
With a camera on the top plate, unlock the centre column and down it slides with a load crash as it hits the base. Sounds painful eh. It's been a long case of having to hold the camera, some how hold the legs and unlock the centre column to prevent this but no more with the Benro Rhino tripod.
The centre column has a gasket inside the centre plate to slow the fall of the column, preventing it from crashing down. Even with a camera on top. Not only does it make using the tripod easier, safer for the camera too but also makes it easier to make micro adjustments.
Centre columns aren't for everyone however. Unfortunately the Benro Rhino tripod series all come with centre columns and currrently is no means to remove the column and just use the ball head. Perhaps we might see a shorter stem to do this in early 2021?* Personally I like the centre column and for these reasons.
Extra height leverage - The Benro Rhino 34CV VX30 tripod system can extend to over 6ft, meaning I can have the camera above me now and leverage height when needed.
Reverse the column to get down lower. At the base of the column is a bag hook for extra weight if needed. This can be removed and allowing the user to flip the column upside down. Granted this is a rare feature I have used but good to know I can utilise the feature whenever needed.
Granted, both these features are only beneficial if you have a rotating-flippy screen like I do on my Olympus system.
*Benro have released the Benro Tortoise Tripod which is the same specs as the Rhino series, just minus a centre column. In November 2020 this series is not available in the UK when writing this review.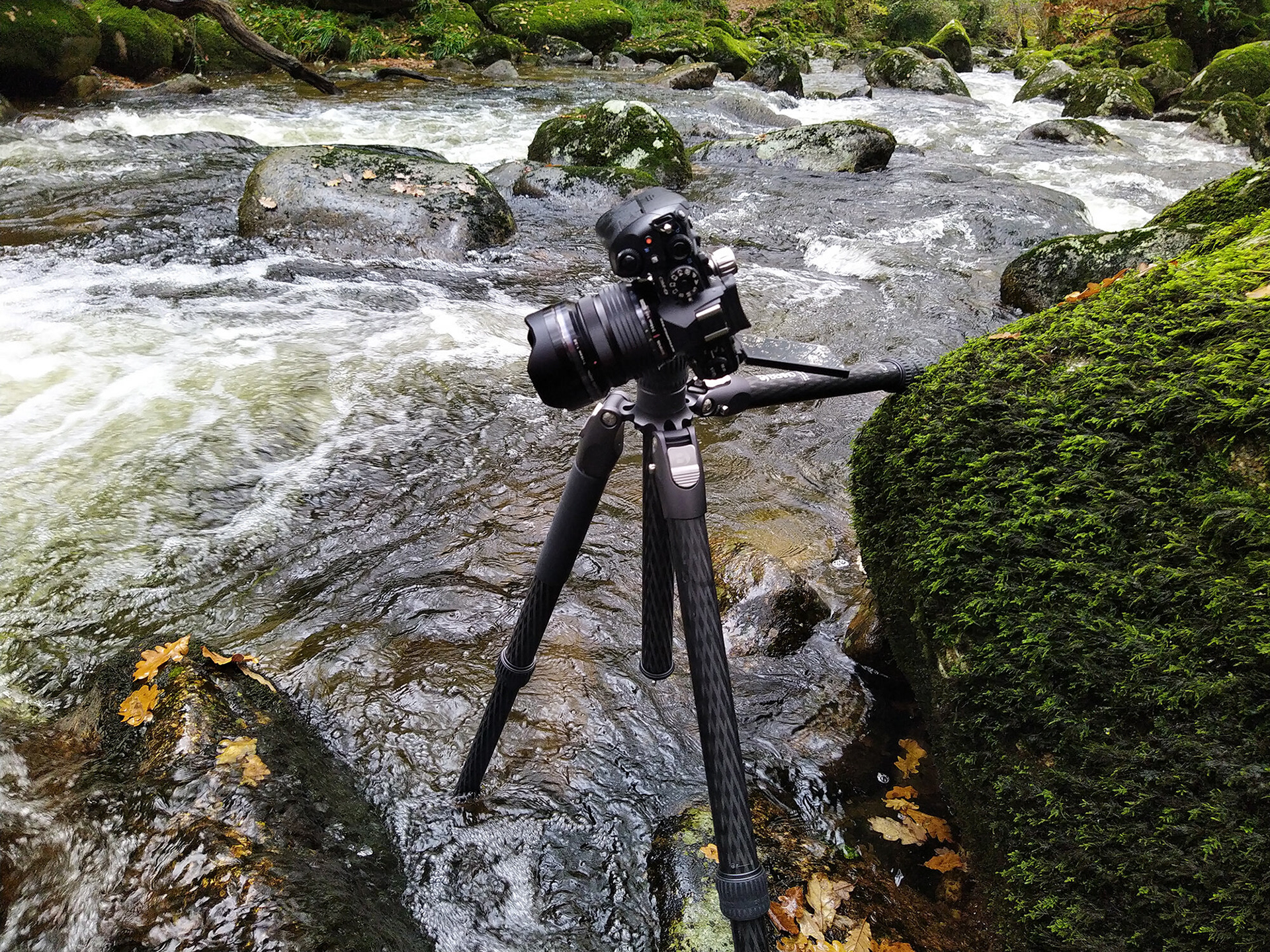 The Benro Rhino tripod legs themselves vary in sizes depending on the models. I opted for the biggest and heaviest for the prime purpose of using as a heavy weight tripod for long exposures. This would be to compliment my current Travel Slim tripod which weighs a mere kilogram!
Whereas the Benro Rhino 34CV VX30 tripod system weighs a little over 2kg so double the weight, height and as a whole a more robust tripod. You would hope so as well given the price difference and leg dimensions of the two. The lowest end of the Benro Rhino 34CV is thicker than the top of the Travel slim section.
With the weight and bulk of the Rhino 34CV I have experienced it is a good weight for using in poor weather and water. Matched with the spiked feet which are supplied with the tripod system, in fast flowing and deep water the Benro Rhino 34CV didn't move. Allowing me to produce long exposures of several seconds.
Similar at the cost with strong winds, tides, loose rock and sand. Of course some sinking occured when on the sand but this is to be expected. Especially around the muddy-sand coastline of the Somerset coast. Burnham-on-sea and Weston Supermare, I'm looking at you here… (Tripods death).
Fortunately, my experience so far with all Benro tripods has been they are actually very easy to dismantle and put back together again with no trouble. Allowing me to strip the tripod down and clean it properly.
When you compare the tube sizes of the Benro Rhino series, the largest 34CV minimum tube size is the thickest of the smallest in the series - 05CV, giving the smallest tripod a sleek, slim and lightweight build perfectly suited for travel purposes and heading abroad. This tripod also being a 5 section tripod, makes it a little more fluid and at full extension you may see more wobble in comparison to it's 4 section counterparts.
05CV VX20
= 5 sections / Max tube = 21.8mm / Min tube = 9mm
14CV VX20
= 4 sections / Max tube = 25.2mm / Min tube = 15mm
24CV VX25
= 4 sections / Max tube = 28.6mm / Min tube = 18.4mm
34CV VX30
= 4 sections / Max tube = 32.4mm / Min tube = 21.8mm
So if like me, looking for a tripod which is big and robust, the larger 24 and 34CV are the best options. Light and fast, the 05 or 14CV series. Finally, where payloads are considered, the 05CV offers up a healthy 10kg payload which 90% of photographers will struggle to get close too. Let alone the 34CV hefty 20kg which is overkill for even my needs with a camera system that weighs a mere 1kg at best.
The carbon fibre legs on the new Rhino tripods is nothing new but they are very well made and feel solid in the hand. It's not unusual to see now on most tripods is a monopod leg conversion and foam gasket on one leg and within the centre plate of the tripod legs you will find numerous threaded holes to add a tripod carry loop or additional arms and gadgets.
As a whole, very versatile and adaptable!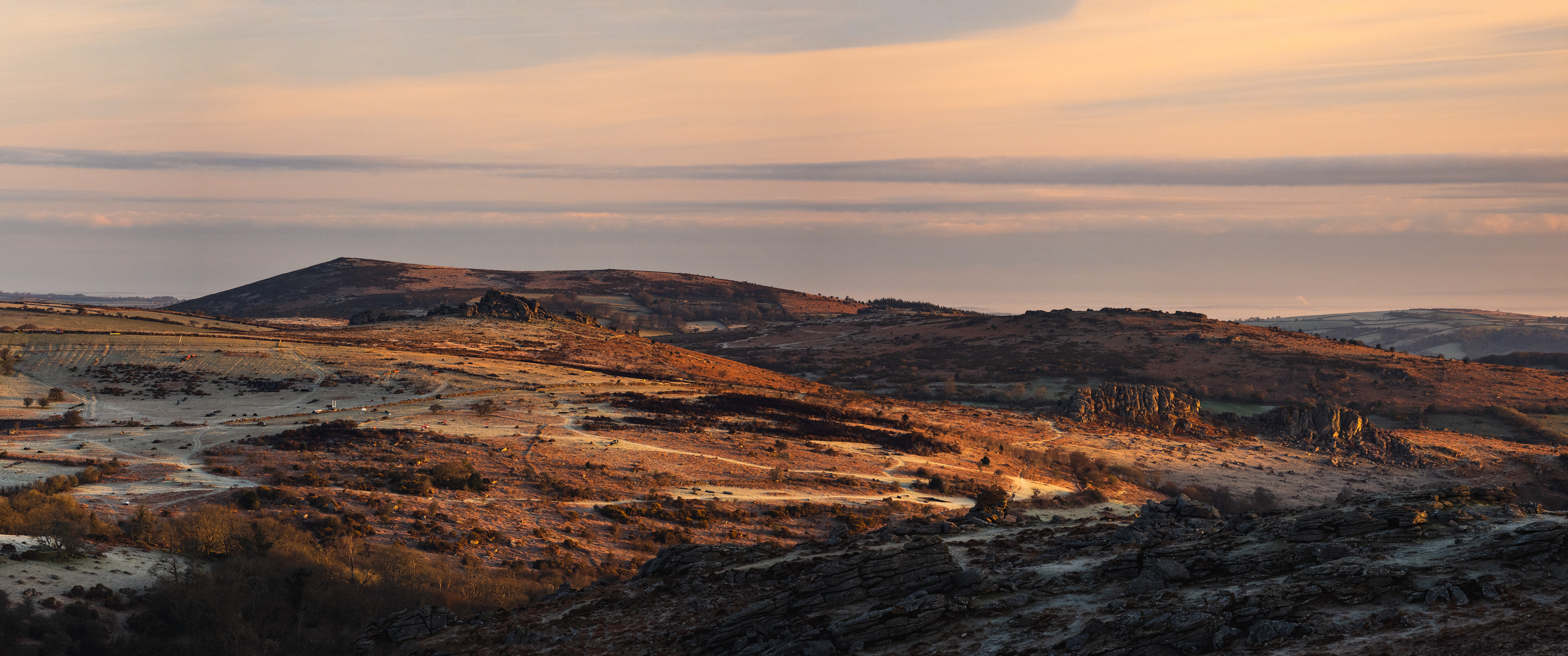 The ultimate question - Is this £290 tripod really all the hype and extra features?
Well, as soon as you see the Benro Rhino tripod, let alone pick it up, you notice the quality and additional features. Especially the new ball head!
Thought has clearly gone in to the ergonomics of how a photographer works in the field and how clumsy we can be. With varying sized knobs, restrictions to prevent any failures and give the photographer the maximum control. Down to millimetre increments.
The 34CV-VX30 is the tallest and heaviest of the new Rhino tripods. At 2kg its not light so certainly will be noticed on mountaineering and long distances trips. Especially in comparison to my usual set up - Travel Slim tripod, which is a mere 32cm folded up and 1kg, but any form of wind causes shake so it's not ideal at full extension. With the new Rhino tripod reaching heights over 6ft and so far has been sturdy for the duration of any long exposures I have taken. Makes this tripod at the price its available, a superb tripod for all levels of photographers to use in the field.
From Autumn storms, taking the brunt of 30-40mph gusts, rivers bursting banks and dealing with the wet, sand and mud at the coasts.
The Rhino tripod has continued to deliver, standing strong through it all. Ensuring stability and a steady shot for my long exposures which have ranged from 30 seconds to 4 minutes.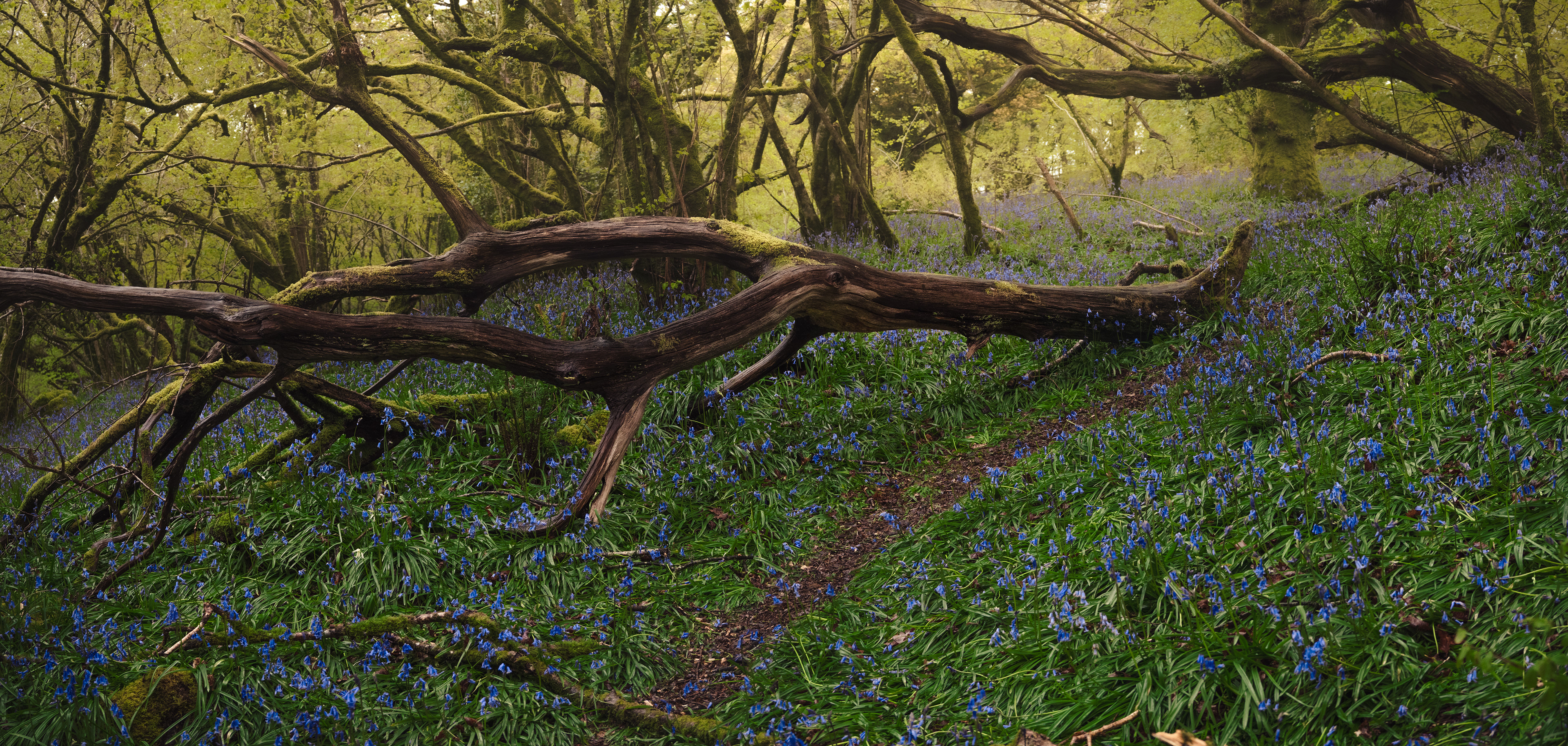 Spending a few weeks/ couple of months trying out new equipment is only going to tell you so much.
When you are spending more than a few hundred pounds on a piece of equipment, you would certainly hope it would last longer and be practical for use beyond a few weeks, months, years even! I've been doing that very same testing with the Benro Rhino tripod and having been using this tripod as my only option since the end of September. Giving me a grand total of 8 months play time (At the point of updating this review on 11th May 2021). Putting it through its paces throughout Winter and Spring with the icy showers, snow on the mountains, plunging in to ice, snow and granite to capture the stars, mountains and light whenever I could.
Obviously the Benro Rhino tripod is still in tact. With the most recent outing hours before updating this content.
I knew the functionality, stability and purpose of the new Benro tripod worked a treat but what about with standing the elements.
A picture tells a thousand words and the below three show the extent of winter across Wales and the South West of England. Cold, icy and plenty of snow. Having the tripod strapped to my rucksack when climbing several mountains in South Wales during the snow showers. Exposing the Benro tripod to sub -10ºc tempertures, freezing rain, snow and blizzard conditions.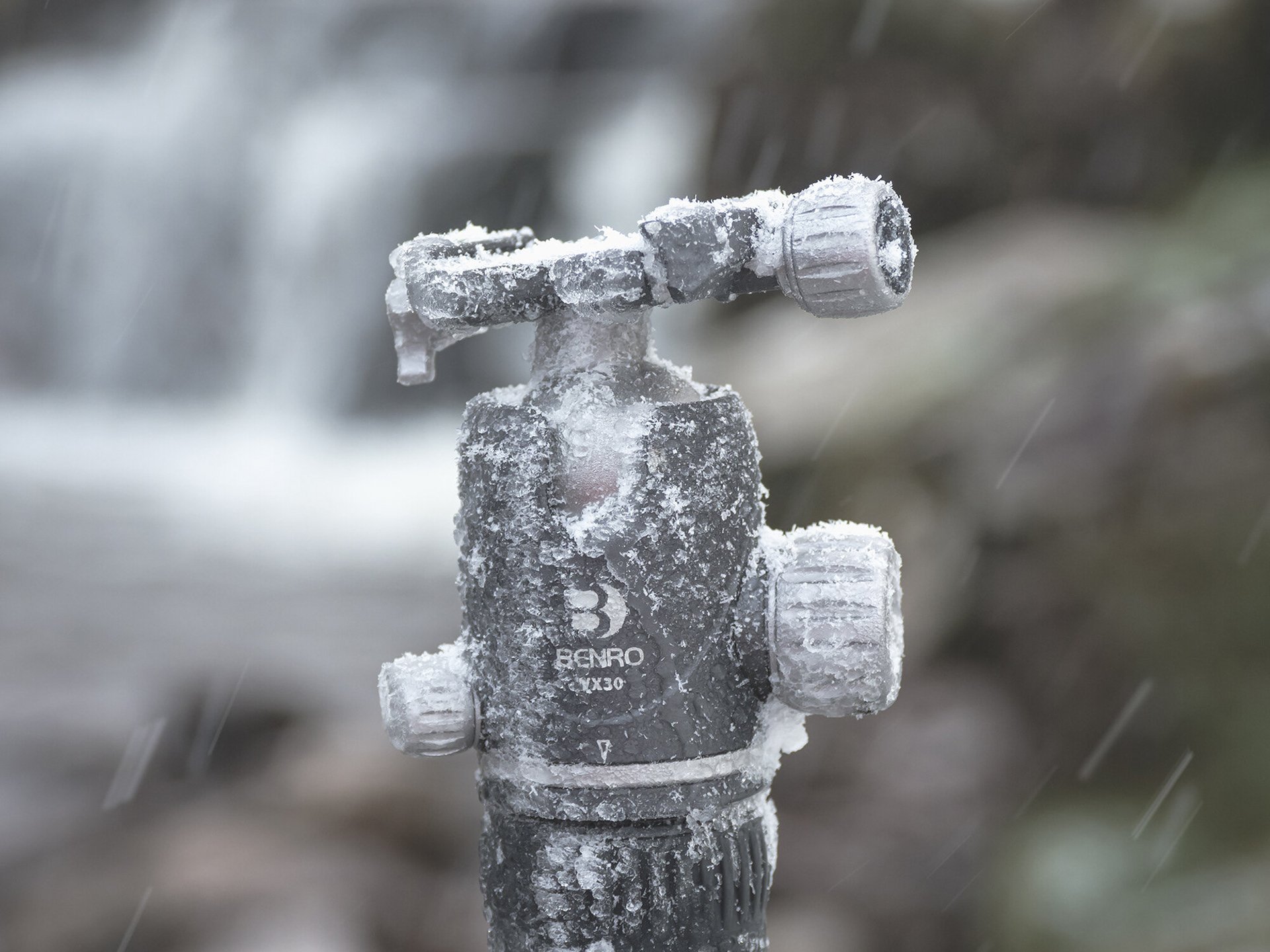 The ball head was frozen. Locked. Solid as a block of ice.
The legs weren't far off being frozen stuck either but despite all this, the tripod and ball head still functioned. Albeit a little stiffer than usual, given the coating of ice. All the ice and snow frozen on the legs and ball head but every gear and button was still functioning. The metal pins were cold of course but using my thick leather mountaineering gloves was no issue to twist the gears and knobs on the ball head.
At 2kg it's not the lightest of tripods either. Far from the ideals of walking some distances with this some what heavy and large bit of kit but during these bleak and blustery days and nights during Winter and Spring, that 'compromise' in weight has proven to be more benefical and worth the extra weight in gold as they say.
My other tripod, a Benro Travel Slim tripod weighs a mere 1kg. Half that of the Benro Rhino tripod and is a fraction of the size when compacted down with it being a little longer than a 30cm ruler but this tripod in 30mph gusts is absolutely useless! The Benro Rhino's extra weight adds some aid and the spray of the legs is what adds the stability to this. However, in some situations having to work with the local environment and wedging the tripod between granite rocks is the only advantage to avoid the camera topperling over and provide that maximum stability.
As every movement when capturing the night sky will cause issues later in post when capturing numerous exposures to stack.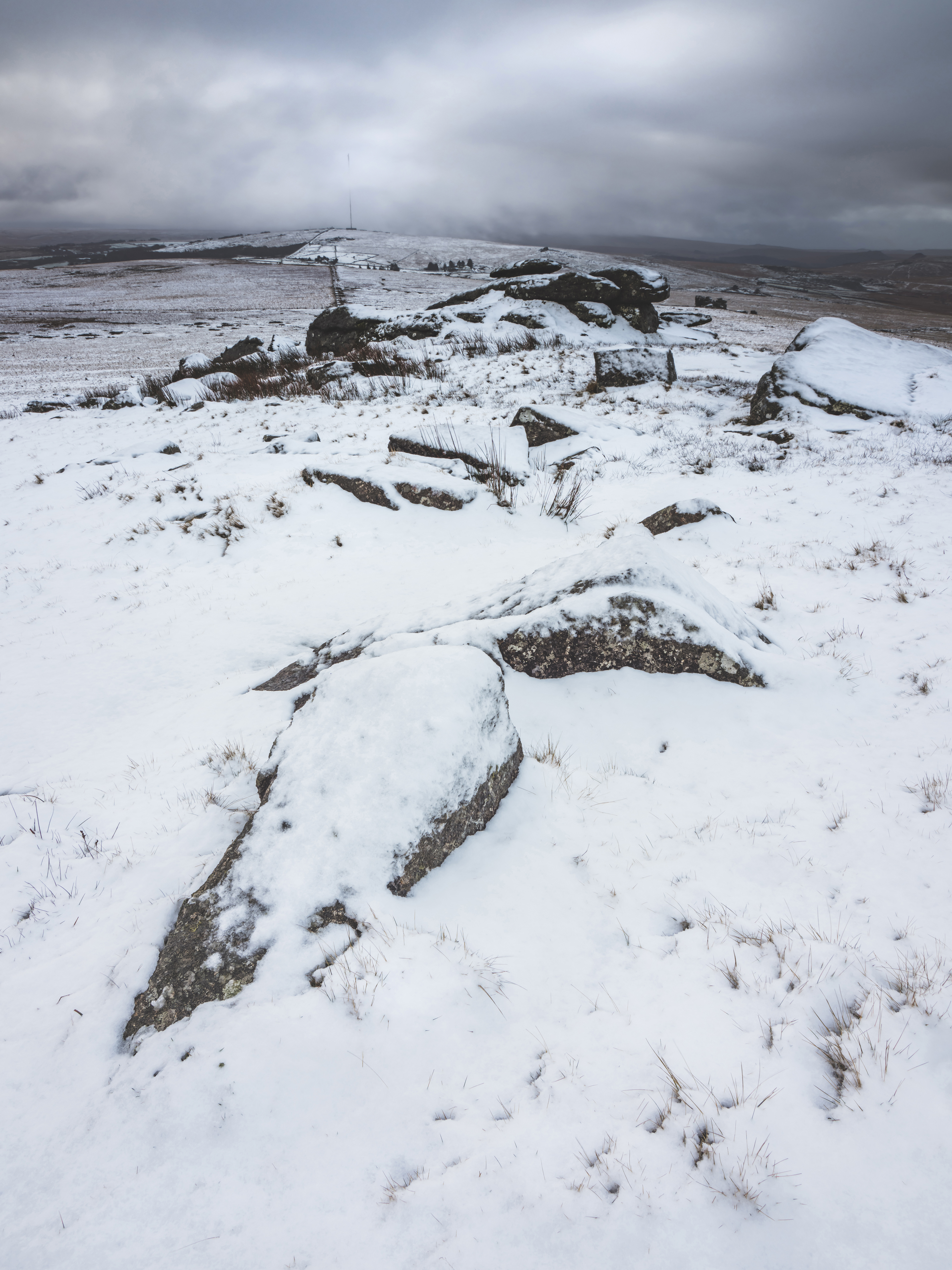 After so long with this Benro tripod. It's proven a worthwhile investment. At first I considered a smaller, slimmer version like the Benro Rhino 14 or 24VC Benro Rhino legs but I am glad I went for something bigger and tougher to compliment the Travel Slim Tripod.
I think if I had opted for a smaller Benro Rhino tripod it would make my current Travel tripod redundant and may not have performed as well in the Winter period we have just had. In what weight I have saved in my Olympus OM-D system, I have now gained the additional weight with the tripod for those stormy and tougher conditions where I need that tripod for stability. Such as, astro photography and long exposures in the water.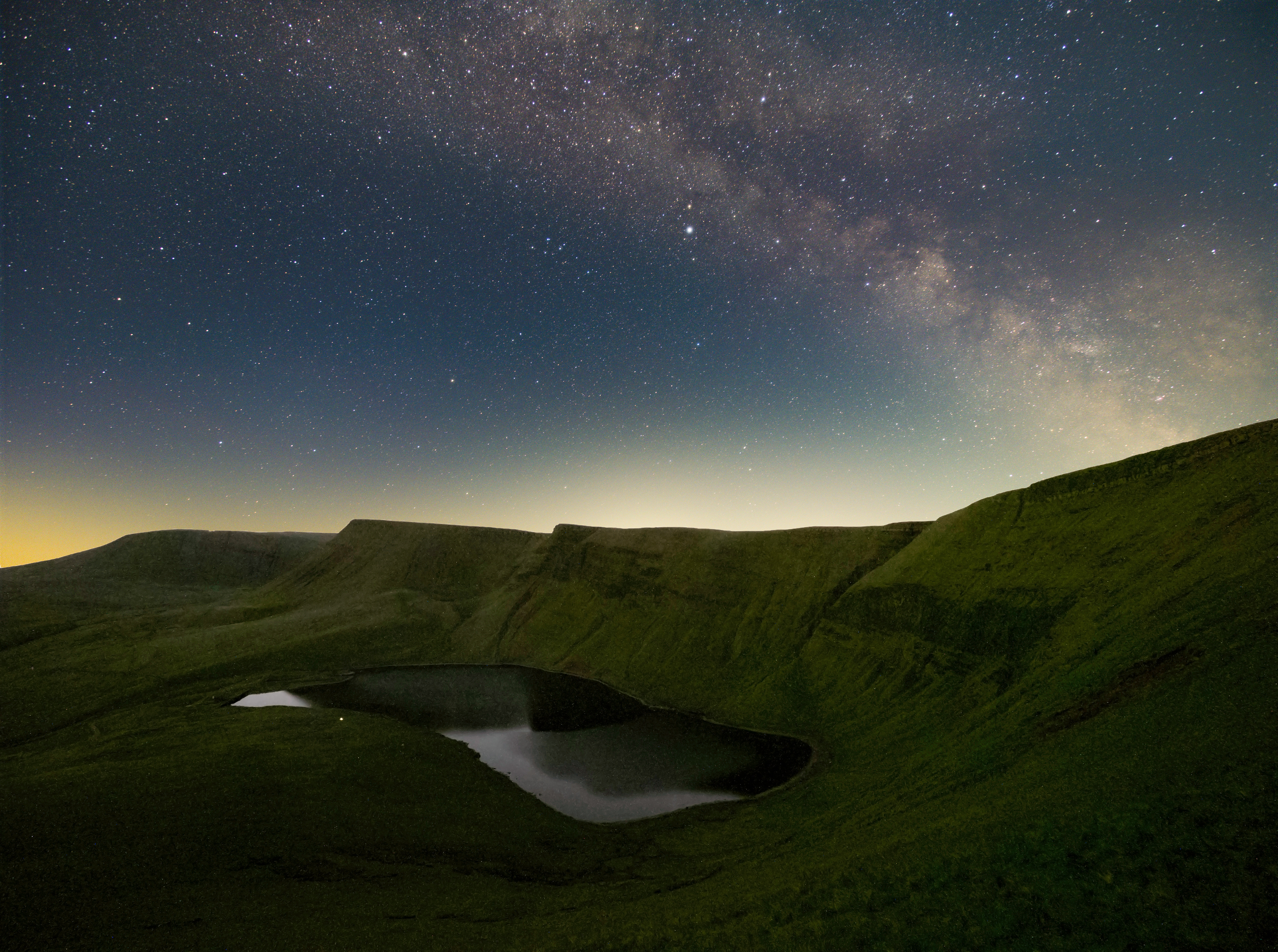 Disclosure: Benro UK have provided me with the Benro Rhino 34CV VX30 tripod system for the use of this review, contents for in press and photographic publishers and to gather content for marketing purposes. I have since paid for this tripod to keep. I am not associated with Benro, Benro UK or Mac Group EU. I do not gain any monetary gain from Benro or Mac Group EU.