Bivvy bag versus Hooped Bivvy tents
Many campers seek to be lighter or more connected with their surroundings in nature. Nothing else compares to this feeling in wild and remote areas, versus a Bivvy bag.
A bivvy (bivouac) bag is nothing more than a lightweight, waterproof bag used to protect you from the elements. Traditional used in the climbing community in restricted and tight spaces where you could not pitch a tent. The bivvy bag would provide warmth and shelter from the weather on these exposed landscapes, whether that be during the day and escaping the rain or used at night to protect you, your sleeping bag and mat.
Today in 2021 bivvy bags come in all shapes and sizes. From the traditional look as seen here with the Snugpak Special Forces Bivvi bag, or Rab Storm bivi and MSR Pro Bivi bag, to more tent like structures which introduce a single pole in the head compartment to create extra head room and storage, such as the Snugpak Stratosphere, Alpkit Elan or Outdoor Research Helium. They also come in varying costs, with your cheaper bivvy bag solutions costing anything from £40-120 or hooped bivvy bags can be up to £300 depending on the brand.
Regardless of brand, the style and construction are all similar. That be in weight too, with traditional bivvy bags ranging in weight from 200-500g, to 900-1100g for a hooped bivvy.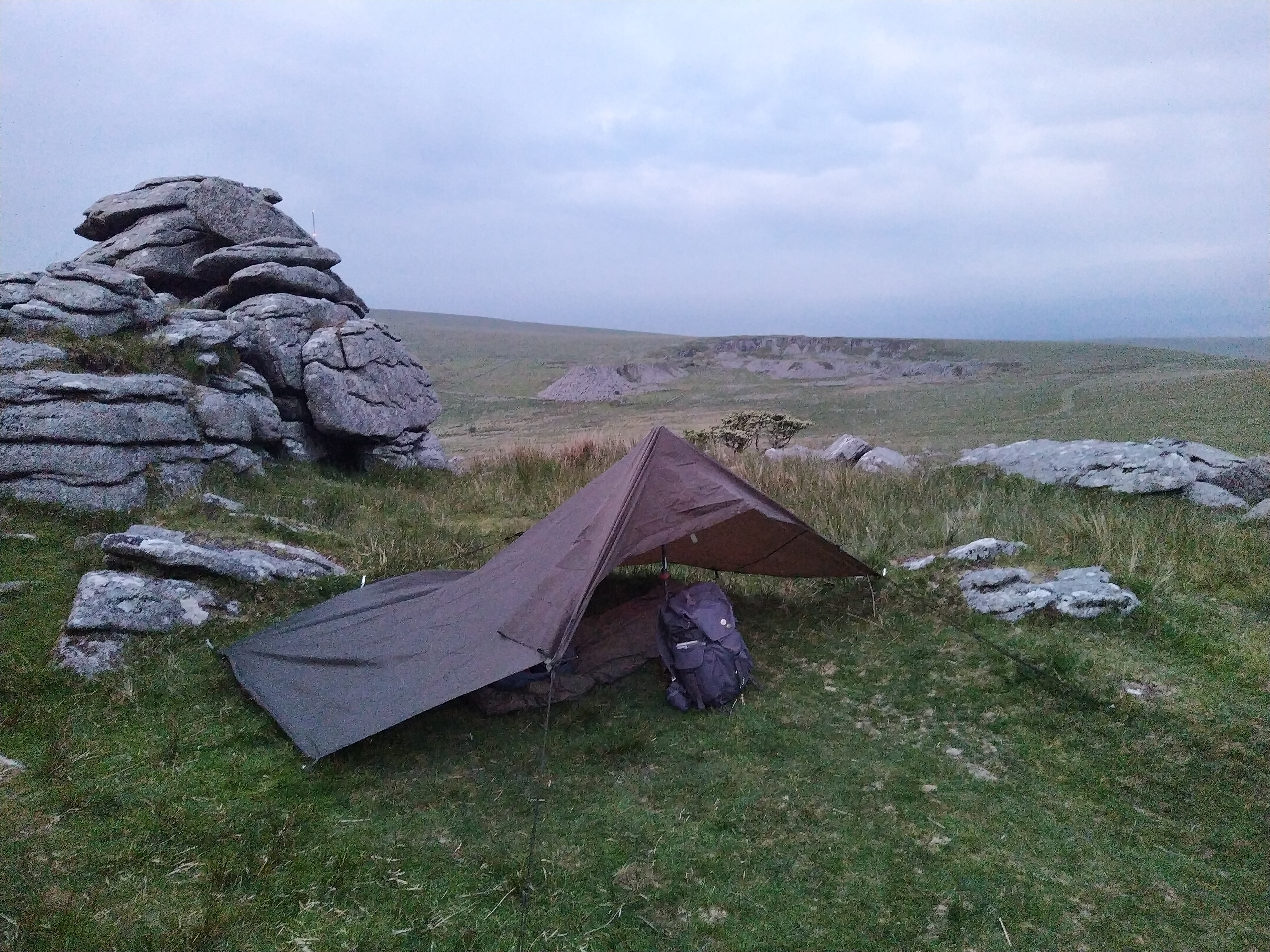 What is great about bivvy bags as a whole is the speed, weight and size of them. My traditional bivvi bag from Snugpak weighs 340g. Waterproof, tough exterior and a front zipper which allows me quick access and closing off the hood in seconds. (Safety warning: do not seal the hood completely to avoid suffocating). This method I find incredibly helpful when travelling long distances, photographing the night sky, as seen in Summer 2020. Overall, this style of camping, keeps my overall pack weight below 8kg base weight. With no ground space required I can use these inside summit shelters for additional protection.
Combined with a lightweight sleeping bag and 3/4 length mat I can have my entire sleep system protected from the elements in a compact manner.
However, my rucksack and boots are left outside which means additional cover maybe needed to protect these. When it rains as well, this form of bivvy bag isn't the most enjoyable means to wild camping.
This is where a hooped bivvy or use or a tarp come in.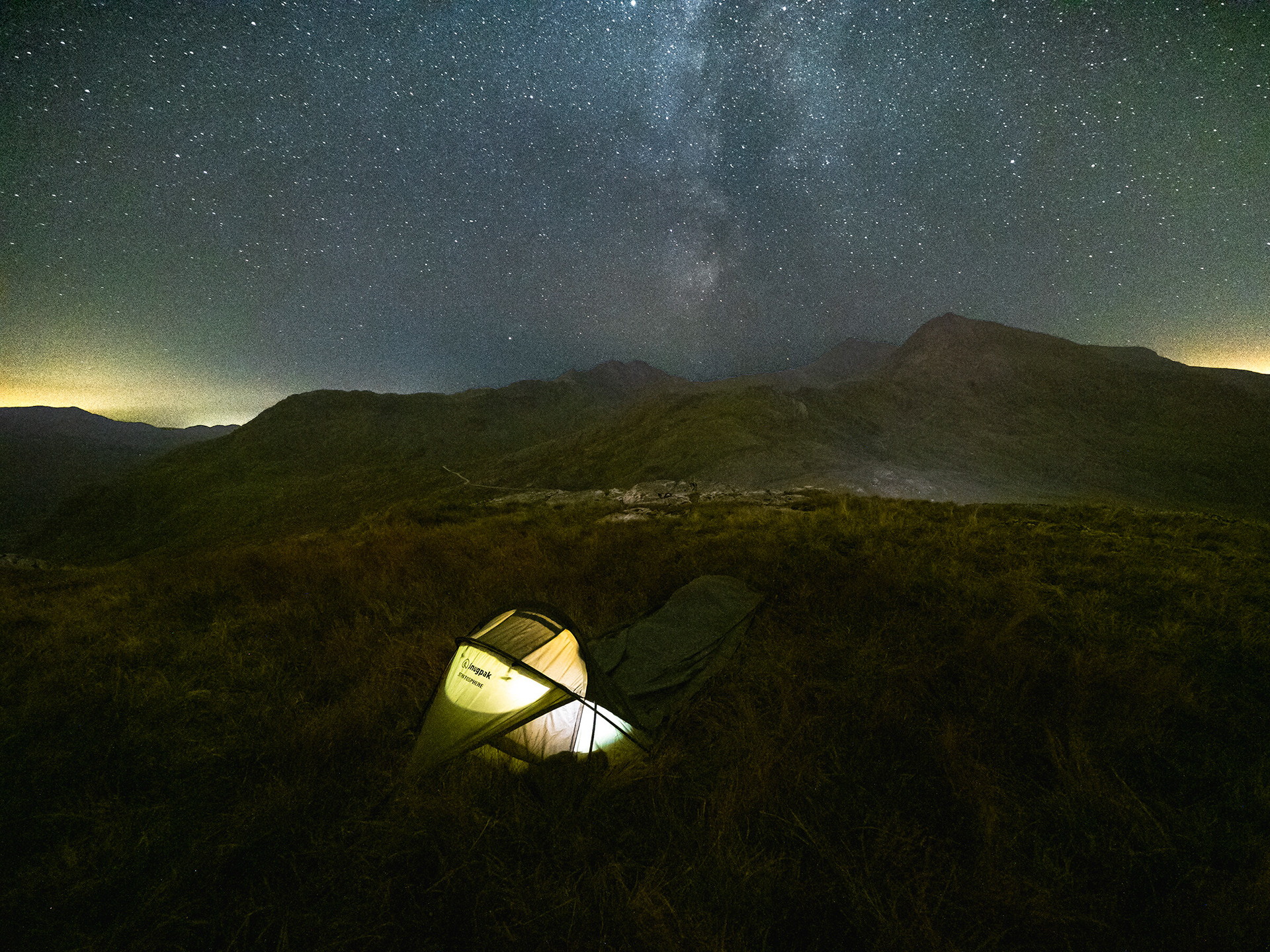 With the hooped bivvy bag a single pole was introduced to the top section creating more head room and a less claustrophobic feeling inside the bivvy bag. This also allowed for a little more storage space and protection from the weather as you can seal the opening off and using the vent behind the head.
Weighing considerably more in comparison to ordinary bivouac bags, my Snugpak Stratosphere weighs in 3 times the weight, at a little over 1kg with a few pegs, pole and the bag itself. However, in this instance I don't necessarily need to bring an additional tarp or cover to protect my rucksack and boots. As these can be rolled up and stored inside the bag or below the vent which has a small area of cover. So, it certainly has plenty of benefits to provide for that extra weight. With the hooped element now introduced you may need pegs and some spaces you cannot use, such as a summit shelter but with complete protection now you don't need the shelter.
An additional option to explore with both types of bivvi bags, is to add a tarp. Either strung up between two adjacent trees or with a walking pole where open moorland is, the odd rock wall also comes handy. Just make sure the wall is secure. Nothing worse than a stone falling on your head in the night.
With a tarp, either smaller 3x2 pocket tarps or larger 3x3 or 4x4 tarps provide ample space, not only to protect you from rain, snow or wind but gives you extra ground space to keep kit dry and cook under.
As you can imagine, without this extra shelter, cooking or just enjoy a cup of coffee out of the elements can be frustrating. You have no porch to brew up in so finding the right area with a granite wall or cranny to hide in is advisable.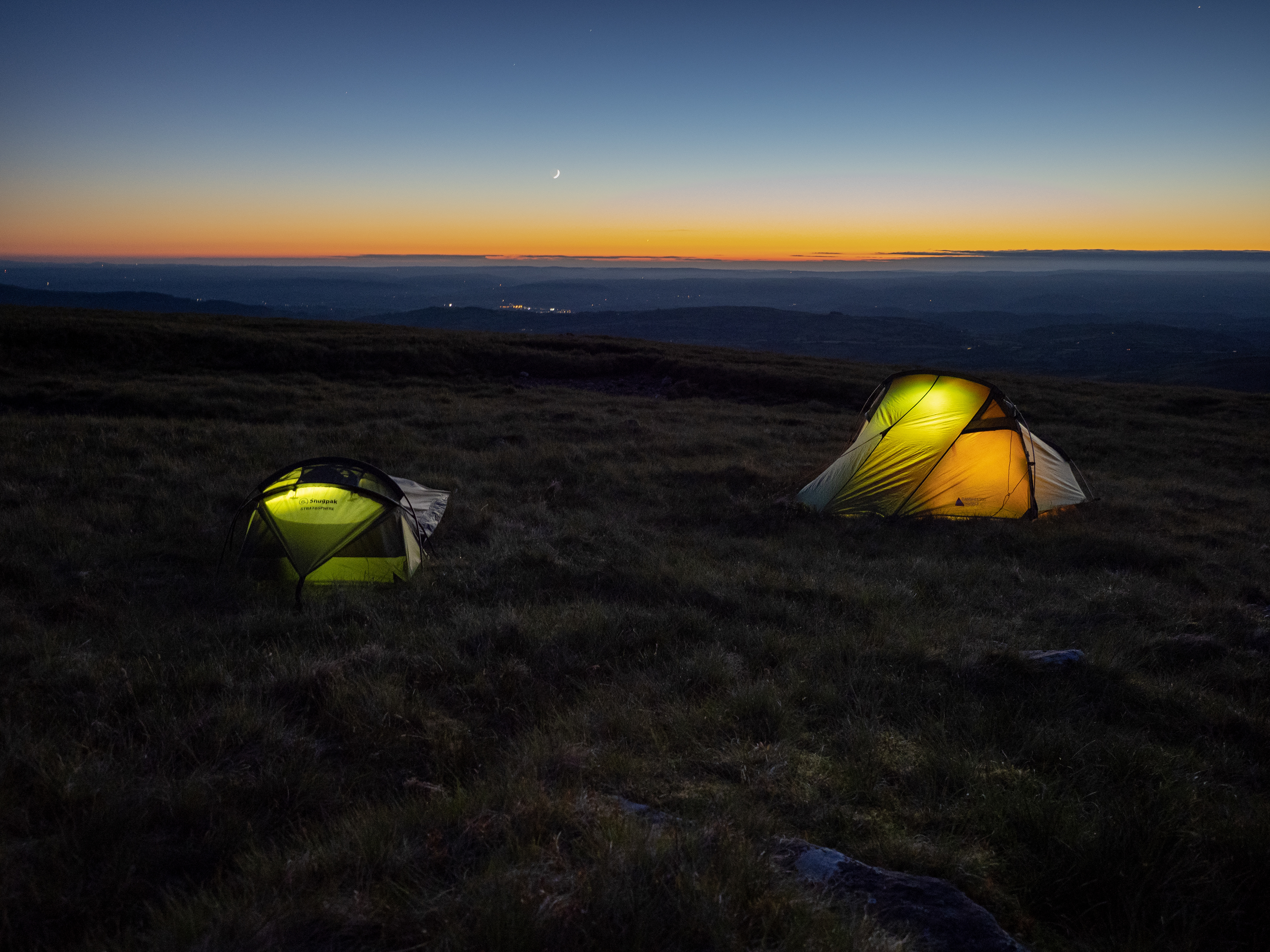 In short, there is no real fixed answer to the best solution when it comes to a bivvy camp. As with tents, personal preference and what the weather is doing all play a huge factor in what to use.
If I know it's going to be a still, dry night with no risk of rain and I plan to cover some distance in the mountains or hills. The Snugpak Special Forces Bivvi bag is my best choice. I can enjoy the night sky, warmth of the sun and enjoy the wilds of the hills, falling asleep to the stars above. If it's going to be a little rougher and more risk of a light shower overnight, then the Snugpak Stratosphere is my choice of bag. Allowing me ample shelter for storage and act as a mere temporary shelter. Both allowing me fast and practical uses in remote regions.
In both options of bivvy bag, condensation is going to be an issue during some periods of the year. In essence you are putting a warm, potentially wet item inside a sealed bag. It's going to happen a little and knowing how to ventilate your bag will be key.
Firstly, having a sleeping bag or quilt with a water-resistant shell will help protect the insulation and bag as a whole.
Second your choice of mat, I use a 3/4 length mat to fit inside the bivvy bag, or a full length inside the hooped bivvy. Using a full-length inflatable mat inside the bivvy bag isn't possible because of the restricted space. So, if you opt for a traditional style bivvy bag. Ensure you have a ground sheet or a mat that can be used on the ground without risk of puncture.
Don't breathe inside the bag. Keep your nose and mouth ideally near or out of the hole created at the head compartment. Breathing inside the bag will add hot moisture which is a sure way to get condensation. With the hooped bivvy bag, this of course is less of an issue as you have two vents to allow air movement throughout.
Before using a bivvy bag, turn it inside out to allow any trapped moisture to escape, and if it's going to be a chilly night, that tarp will help a great deal from dew and further protect you from any damp. You may not need to zip the bag all the way up when the tarp is used, which will help further with air circulation inside the bivvy bag.
If you don't want to use a tarp with your bivvy bag, then I advise carry an emergency survival bag. Which sounds odd given that's essentially what a bivouac bag is. Use a survival bag like the one from
Lifesystems
to store your rucksack and boots inside. You can roll it up and keep it safe nearby. As it's bright orange too, you won't miss it. Another option is to use a
dry bag
and, in both instances, tie and peg the kit bags down.
Lastly if new to bivvy bags. Don't be put off and fear the open opportunity that is bivvy camping. It's not as luxurious as a tent but the opportunity to fall asleep with the stars above you, truly is something rather special!
Transparency Notice: Please note that I am a Snugpak brand ambassador and receive the products for free to review from Snugpak or to use for marketing purposes. The review is no guarantee of endorsement. I receive no monetary gain from Snugpak from the reviews or content created.