Snugpak Endeavour sleeping bag review
I have been using the Snugpak Osprey, now Endeavour sleeping bag for the last twelve months. This has been my go to sleeping bag all year which for a four season sleeping bag might sound odd considering the heatwaves and conditions we've had. I share my thoughts on the sleeping bag after extensive use all year.

Many view the Softie 12 Endeavour as the ultimate four season synthetic filled sleeping bag. Since its launch in 1987, it has been setting the standard for winter bag performance for others to follow. Along with the rest of the Softie range, the benefits go on and on. The Softie Premier filling has excellent insulating properties, trapping heat and maximising comfort; the design of the mummy-style shape brings additional warmth and comfort, the sleeping bag also comes with a snug fit hood that uses an adjustable cord to ensure a comfortable night's sleep, even when the temperature drops. 
 
Those who know about the Softie 12 Endeavour have either used one or wished they had one. Use it from the heights of the Scottish mountains to the bottom of your snow hole. 
Temperature Rating: Comfort: -10°c, Extreme: -15°c
Compact pack size: 25x23cm (fully compressed)
Weight: 2000g including compression stuff sack
Compression stuff sack included for compact carrying
Reinforced foot – so strong you can even sleep with your boots on!
Full length two-way, anti-snag zip (left hand and right-hand versions available)
Enjoy greater comfort by adding the Snugpak Expanda Panel to make a wider sleeping bag. (expander available separately, see below)
Made in the UK. Support UK manufacturing and enjoy superior British quality
The top of the sleeping bag has a Snugfit Hood which is tailored, pleated, and fitted with a drawcord, so it pulls into shape, rather like a jacket hood
Anti-snag Zip with full-length baffle To prevent the 2-way zip from snagging either the zip baffle or the bag edges, an "anti-snag strip" of webbing is sewn in behind the zip. The full length baffle prevents heat from escaping through the zip area
Extra Length Available. You can buy an extra long version of this sleeping bag, so if you're tall, enjoy a comfortable night's sleep without having to bend your legs!
Liner Fastening - the loose liner of Softie insulation stays in place, ensuring maximum comfort, and an undisturbed night's sleep
Hanging tabs allow easy airing and drying
Zip Together Buy a left and a right hand to make a double (please check when ordering)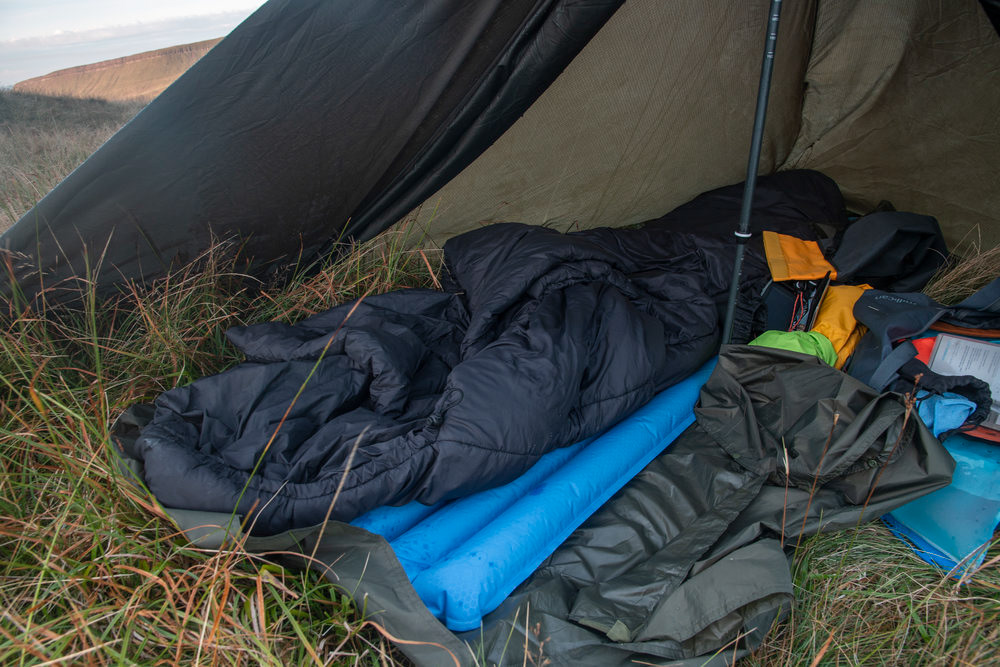 Firstly, the Snugpak Softie 12 Endeavour sleeping bag is a four season sleeping bag, rated down to -10ºc and extremes of -15ºc, weighing in at 2kg and compacts down to a decent size of 25x23cm but I did manage to compress this down further but only by a few more centimetres. The sleeping bag is priced at £156 and available in two lengths and with right or left zip in black/orange.
Now considering the costs of this four season sleeping bag and the temperatures it can keep you comfortable in it's not a bad price at all! It might not be the cheapest on the market, or the lightest. It sits in the middle and offers good compromises for the cost versus weight, temperature and packs size.
In comparison my Vango Latitude is £80 but weighs slightly more and comfort rating is to -4ºc, or on the opposite scale, Vango F10 Vulcan -12ºc which costs £370, weighs 1.25kg and comfort rating -12ºc to extremes of -30ºc. Although this is only Vango which I own and can say work it gives you a good gauge as to where the Snugpak Endeavour bag sits and why its a good deal. Before I go on, all three of these bags compact down to a similar size between 18-25cm.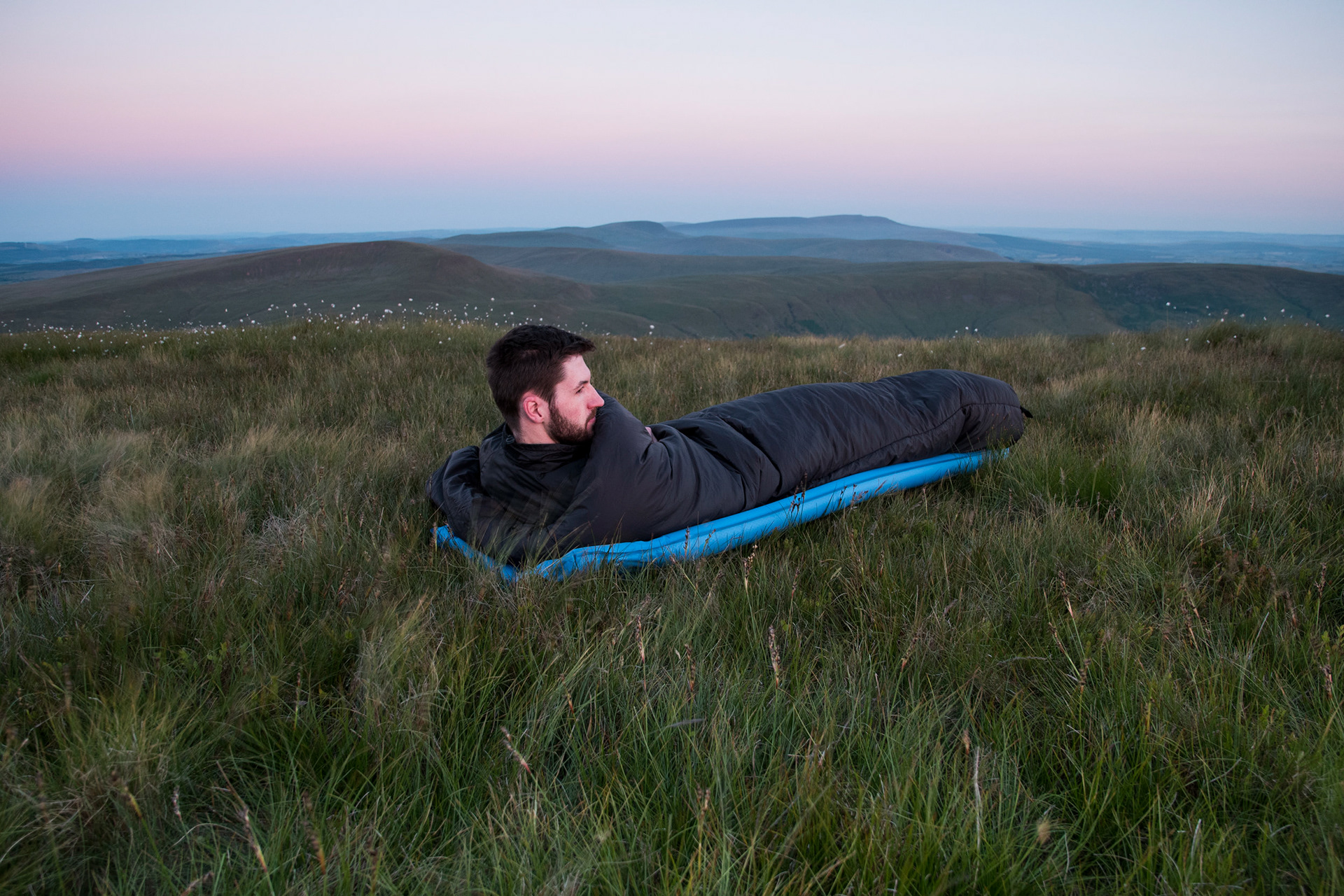 As I opened with, I have used the 4 seasons sleeping bag all year which again sounds odd when you consider we had 36ºc last summer and temperatures dropped in winter to hover around -10ºc so a wide temperature range but when you consider where I am typically is up high on mountain summits that 36ºc we had last summer was actually more like 16-20ºc and at night lower still. One night in August we saw temperatures drop to above freezing and signs of frost. Frost in the middle of summer? Mad to hear so this is why a four season sleeping bag is a must for mountain summits and camping in these remote regions.
If you are planning or currently doing your Duke of Edinburgh Gold or Queen's Scouts awards, your expedition leaders/groups won't let you out unless you have a four season sleeping bag. It was a must when I was doing my own DofE awards and it won't have changed in the few years since I completed the awards.
However, in summer I personally didn't stay zipped up inside the bag but left the zipper lower or in some instances just slept on top of the bag or as a blanket as such. Now, of course in winter the four season bag comes in to its element! Not as severe as 2017/18 with the Beast from the East we did see extensive snow and ice coverage across the UK and plenty of storms. The lowest I personally experienced was -10ºc and using the Snugpak Endeavour sleeping bag I was still comfortable. This was used with the Snugpak Antarctic Mat which is designed for winter use. Throughout the rest of the year I used the Snugpak basecamp air mat with built in footpump. In addition, this set up has been used in the Snugpak Ionosphere, Snugpak Scorpion II and Snugpak Journey Duo tents. All of which I have been comfortable inside in high winds, snow, winter and hotter conditions and heatwaves.
To put it simply, the Snugpak Endeavour Sleeping bag has been the ultimate, all-round 4 season sleeping bag hitting every feature at a good mark. Price - mid range, not being to expensive nor to cheap to make you concerned. Weight, could be lighter but it compacts down fairly well so a worthwhile trade off and finally comfort and warmth has been no issues at all whether deep in winter or used as a blanket in Summer. It's been our go to for sleeping bags and is a firm favourite. Everyone who has borrowed or used the bag on workshops or outings with myself have been very impressed with the bag, many of which have gone off and purchased their own.
Transparency Notice: Please note that I am a Snugpak brand ambassador and receive the products for free to review from Snugpak or to use for marketing purposes. The review is no guarantee of endorsement. I receive no monetary gain from Snugpak from the reviews or content created.