Snugpak Ionosphere tent review

The Snugpak Ionosphere is a compact, small one man tent ideal for hillwalkers, wild camping and those wishing to keep weight to a minimum. The Snugpak Ionpshere is a bivi styled tent, using a two pole construction, inner build first but how far can this small one man tent be pushed? I take it out for my first experience with the one man tent and use it in 90km/h, heavy snow and as a whole a pretty miserable winter.

The Ionosphere ™ by Snugpak ® is a two-pole, one-door compact tent; expertly designed for planned overnight ventures, wild camping and adventure races, where more robust protection from the weather elements is required. A tried and tested favourite of Hill and Moorland Leaders, Mountain Leaders and Military Personnel, the Ionosphere has an impressive floor space, measuring 2.4m long and 0.9m wide, creating ample room for a single person with their equipment; in an emergency, the Ionosphere™ can accommodate two people.
This low profile easily pitched tent packs down small and has a mere trail weight of 1.2kg. Using tried and tested DAC ® Aluminium Poles, so it doesn't take up valuable space in your pack. Ideal for extended ventures and multiple days use with the 
Softie® 12 Endeavour Sleeping Bag
.
The perfect one-person tent, the Ionosphere™ will shelter you from all but the worst inclement weather, with a 5000mm
Hydrostatic Head
PU Coated Fly sheet, with taped seams and a No-See-Um Mesh Mosquito Net, to keep out the bugs in summer months and warmer climates. For wild summer camping, the Ionosphere is the perfect green, allowing you to pitch your tent with minimal environmental impact to the surrounding areas, as well as being able to pitch and adjust should wind direction change, using a two-pole system to form a hooped shelter that keeps condensation build up to a minimum.
Green Outer and Black Mesh Inner, Perfect for Wild Camping Ventures
Single-point Side Entry
Lightweight, but robust, 210t Ripstop Flysheet with 5000mm Waterproof PU Coating
Lightweight 190t Nylon 5000mm Waterproof PU Groundsheet
Lightweight 190t Polyester Mesh Inner, with 50D No-See-Um-Mesh Mosquito Net
Waterproof Taped Seams
Two DAC® Featherlite NSL® Anodised Aluminium Poles, with press fit connections
Supplied with 14 Lightweight Alloy Cross-Stakes, with two-spares
This tent is Flame Retardant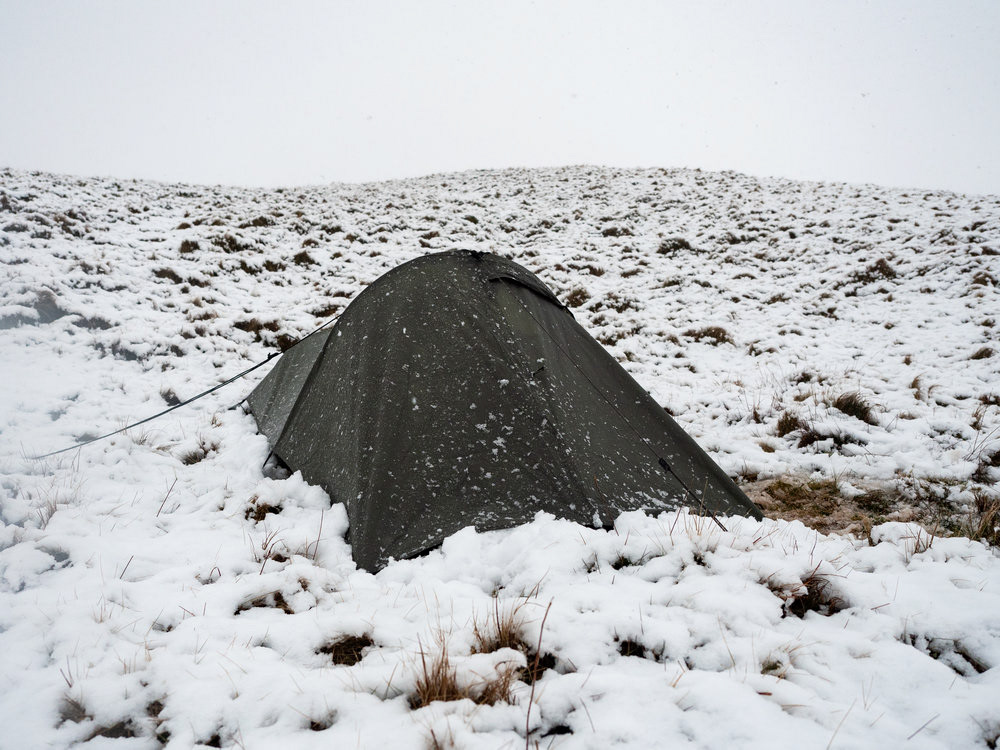 Firstly, depending on your requirements and whether you wish to camp in to the depths of Winter will shape which tent you want. Snugpak offers a wide range of tents from bivi tents such as the Snugpak Stratosphere to the ever loved Snugpak Scorpion expedition tents. The two most popular tents are the Snugpak Ionosphere, a one man tent and second is a 4-season tent, Snugpak Scorpion as mentioned above.
The better option for winter is obvious the Snugpak Scorpion tent, it's a stronger and larger tent and in winter where it's cold, wet and miserable and you'll find yourself inside the tent for a lot longer, and the extra space plus warmth the Snugpak Scorpion brings is worth the extra kilogram when compared to the Snugpak Ionosphere. The Snugpak Ionosphere is better suited to warmer and calmer conditions but as I've tested, the bivi style tent can cope in these conditions too.
Why would you choose the Snugpak Ionosphere over the Snugpak Scorpion? Firstly, it's lighter and smaller and in summer, which I am most looking forward to using the Snugpak Ionosphere in is you can have the inside mesh net pitched and see the stars above you as you lie there and better yet you're bug free! But why use this bivi tent in winter? A minimalist set up plus lighter pack weight. Winter you are typically carrying a lot more gear and heavier kit too so if I could shave a further 1kg from my tent then the pack weight would even out.
Now a warning, although I put the Snugpak Ionopshere through some gruelling conditions such as 100km/h winds and heavy snow, I was anchored down to my car in the instances of the 100km/h winds and with the heavy snow it was a calm in on the wind front so snow settled around the tent. If in extreme conditions such as the wind and on a mountain I simply wouldn't camp out. Safety first! There are plenty of other nights to go camp out, there is little point in risking your life or Mountain Rescue if it were needed.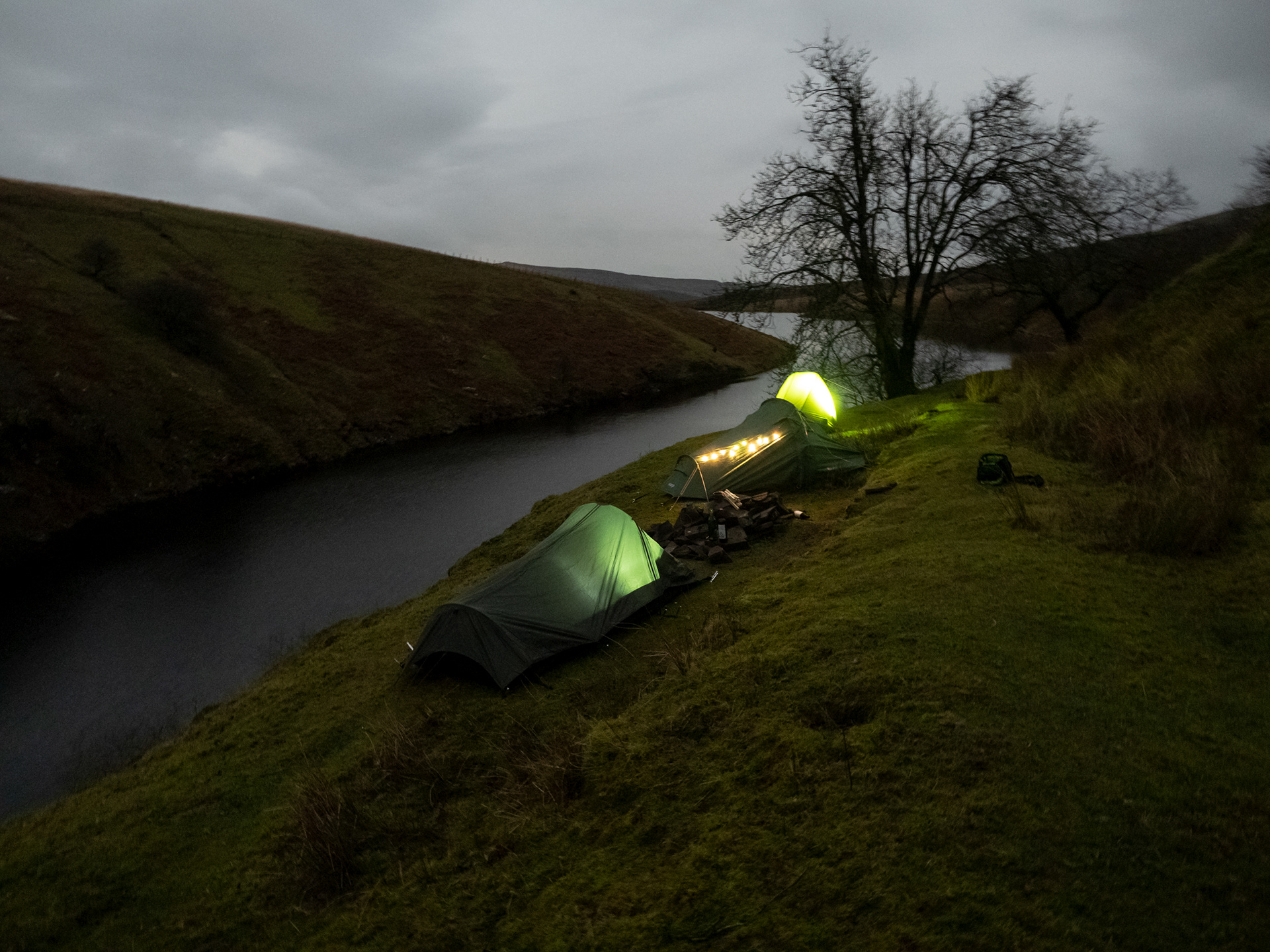 The Snugpak Ionosphere is a smaller, one man tent designed for wild camping and adventure racing, it's low profile and light trail weight of 1.2kg makes it great for long distance hiking in summer and even on still winter days. Using the same Hydrostatic head PU fly sheet from the Scorpion tents and with a Mesh Mosquito net/inner it is a very durable to the rain, snow and conditions.
My first experience with the Snugpak Ionosphere was just before Christmas with our festive trip to South Wales which was originally planned to be a bothy trip but then turned in to a wild camp by the reservoir where others had the same idea. Except it turned in to a bit of a wash out with drizzle and thick cloud. I would never recommend this but I did a naughty and didn't test building the tent prior to going out so as a result ended up building the tent in the dark, on a hill side in light rain. Not ideal at all but it goes to show just how easy and quick this one man tent can be constructed with no experience or reading the instructions.
From finding our spot on the hillside to the tent fully constructed took mere minutes. It was a case of simply fold out the material, two poles in, pegged out either end and the fly over the top and pegged down further.
Immediately upon constructing the tent I noticed the sides where the fly sites over the top. It leaves a gap, not that water or wind can get in but it's not flush to the ground as you might see with typical tents. This is the same all around, minus the door/front section where the material does reach the ground. This isn't a design fault at all and shows the true purpose and use of the bivi style tent. It's a Spring/Summer tent, warmer weather where a gentle breeze and reducing condensation build up. With the Snugpak Ionosphere as an inner pitch first and the raised fly sheet this makes the tent perfect for summer and the net will keep all the creepy crawlies off you allowing you to sleep without being disturbed. In addition its small pack size, weight and green exterior makes it perfect for the wild camper for a discrete, minimal environmental impact to the surrounding.
So, by this point you must be thinking why on earth would you be using the perfect summer tent in the depths of winter? Good question to be honest and it's simple. Weight! Simply to keep weight to a minimum and keep the set up as simple as possible.
To help in wintry conditions I did add some thicker, heavier grade guy-lines from the Snugpak Scorpion which helped keep either ends of the tent further grounded and from flying away. Which in the instances of 100km/h winds was needed. As the outer fly sheet is held down by elastic loops which loop over the pegs you've used for the netting inside you had better put out the guy-lines to avoid the fly from literally flying away.
I say this, however even with the heavier guy-lines used and these elastic loops over the top the fly didn't go anywhere, the tent didn't collapse nor did any of the elastic points un-loop around the tent so give the little one man tent credit. It really held its own.
Even with the raised fly which goes around the edges I didn't experience any wind through the tent but certainly went under the tent. At times I felt like I was partially floating. A precaution we all took to help keep the tents and ourselves from flying away was using our cars as a wall to try and deflect/shield us from some of the wind but of course as you might have guessed, pretty useless when the wind changes direction and in the early hours rather than the wind hitting the front of the tent. The Ionosphere was being blown down from the sides. I think due to its low profile, extra pegs and thicker guy-line used resulted in a strong and stable tent.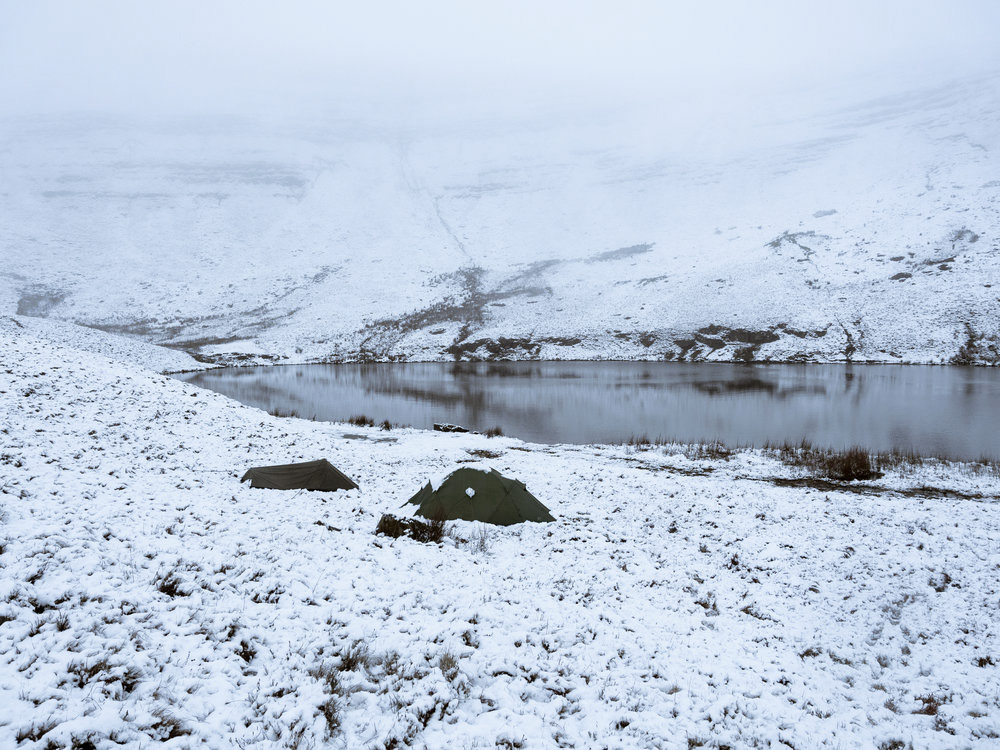 So far the Snugpak Ionosphere had been used in heavy rain, somewhat dangerous winds and gusts of 100km/h so the final piece to the winter test was of course snow and on the visit to South Snowdonia, Wales with the silly wind conditions it was only days when the "mini beast from the east" returned and the UK so wide spreed snow fall.
The Snugpak Ionosphere performed perfectly in the snow fall in February and no concerns with the tent collapsing or caving in. As with most tents, if the fly is taught it will do a good job at keeping snow from settling and caving in. The design of the Ionosphere also lends itself self as its rounded. So, as I woke in the morning found the edges around the tent had a nice shelf around the exterior.
Again, no issues with the cold, wind or wet in these conditions and this is also thanks to the sleeping bag being the Snugpak Endeavour or the Snugpak Complete Special System which I used in the instances for the snow. Not because the Endeavour isn't suited to the snow and cold conditions. Purely because it was new and I wanted to take it out.
Now the one man tent had no issues with perform, warmth or keeping me dry. What I lacked was space however and for this reason its unlikely I will be doing this again unless I'm really needing to keep weight to a minimum. In winter it's not only the cold you have to contend with but shorter days so you might find when its wet and cold, you'll end up in your tent for longer and with the bivi style tent you can't sit up. You are left lying down which isn't an issue but for me personally I would opt for the extra head space and stretch which the Snugpak Scorpion offers. This extra space means you have more room for wet gear and of course more room to get dressed.
Up until now I had typically slept with my head at the door section which is easy to climb in and out of like this but on this occasion I switched and had my head at the opposite end. It was possible but a little awkward getting back out again. Meaning the Ionosphere really only has one method to sit/lie inside and if you're over 6ft5 you will find this tent short on length.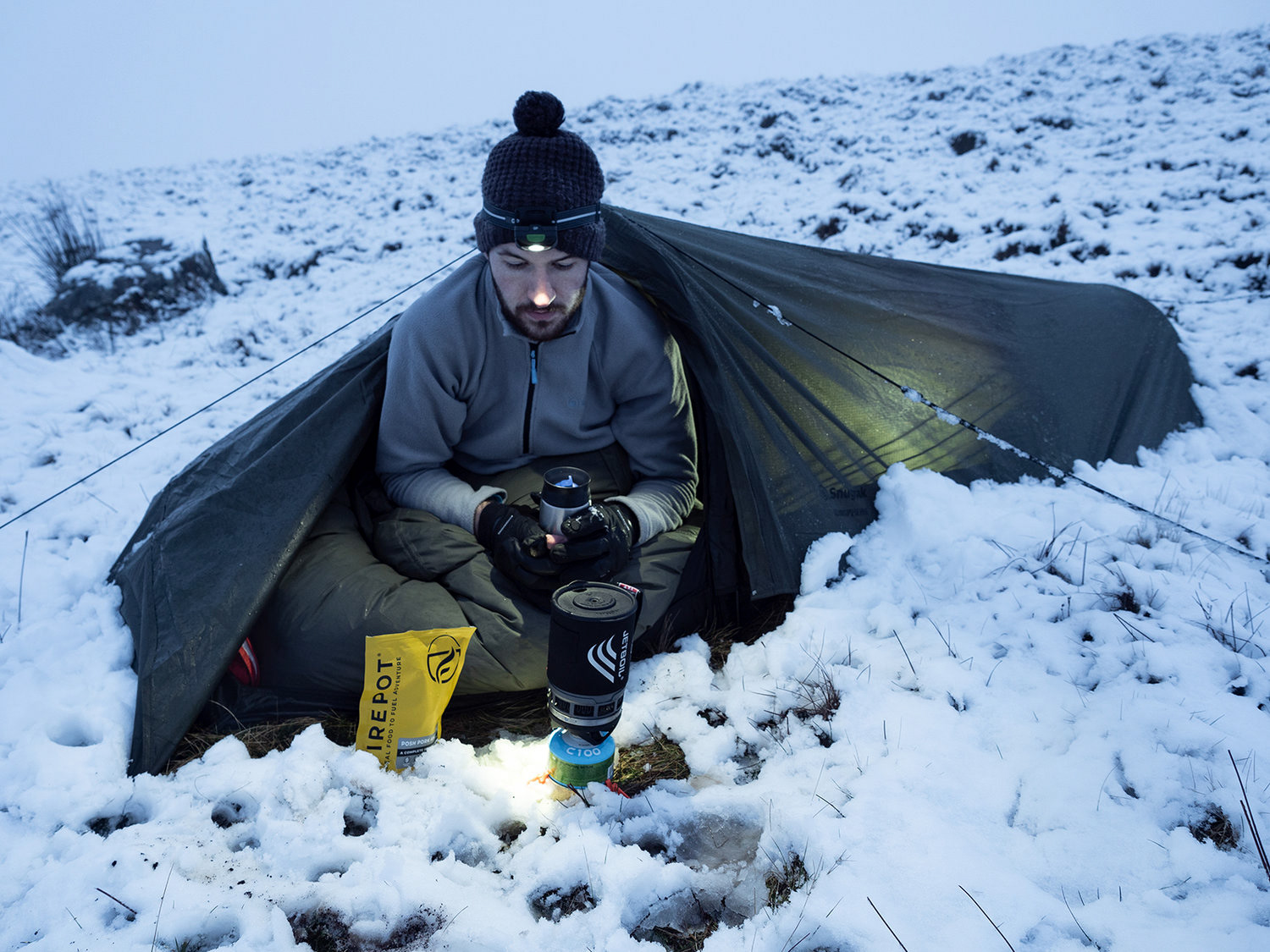 As it is a one man tent space isn't something there isn't much off, plenty to sleep and move about in but you won't be spreading like a star fish any time soon. With this in mind, storing your kit inside requires some forward thinking and being organised. For me, with my slight OCD for being tidy it's not an issue, everything is packed in to dry bags and these are often pulled out of the rucksack and left lined up along the sides or used to create a pillow to sleep on. As for the rucksack and boots, these are tucked in under the front of the tent and the rucksack folded in half and left on the inside often used to leave the stove and other items on top. When it's wet I do the same method and the rucksack is used to keep wet gear away from my sleeping bag.
This also means you can leave muddy kit by the door and when you need to put them back on you won't have mud and wet gear rolling about the inside of the tent and makes it a lot quicker to find things too, knowing it is all on top of the rucksack.
The Snugpak Ionosphere has a large opening to climb in and out which can be tied back to reveal the front quarter of the inside which can be used to sit up in and the large opening makes it easy to set up your sleeping kit inside. When it's raining of course you are a little stuck and can't leave the door open as this will result in the majority of your kit and the inside of the tent getting wet. The best solution if you still wish for a lightweight set up is to use the Snugpak AWS tarp or Stasha which is a smaller set up.
You use this tent with a tarp you can form a cover to sit over the top of the door way and create more space and shelter allowing you to sit up in the doorway and leaving kit outside of the tent. If you are like me and typically up a mountain instead of woodlands this does limit this style but you have options and 
Luke Hadley or better known as Hippyswift
uses a similar set up with the Snugpak Stratosphere and the Snugpak AWS.
What I am looking forward to doing with this tent in dry and warmer weather is not using the fly and just having the mosquito net and doing a few wild camps in the open looking up at the stars. This will be rather special and I don't think we will have to wait long to get these conditions. So, I for one am very much looking forward to summers plans and further trips out with this small but mighty set up of the Snugpak Ionosphere.
Transparency Notice: Please note that I am a Snugpak brand ambassador and receive the products for free to review from Snugpak or to use for marketing purposes. The review is no guarantee of endorsement. I receive no monetary gain from Snugpak from the reviews or content created.