This isn't just a break down of the gear I use, but a helpful guide for anyone new or looking for advice and equipment for the outdoors, in particular wild camping, hiking and photography combined. Before each section is handy tips, tricks and reasons to use such methods. Although many of the items are related to brands I use, the logic can be applied to any brand or item on the market. Should you want help or further advice, please feel free to contact
me.
As soon as I was old enough, I joined Beaver's in the Scout Association and since then have always been involved with the outdoors. Twenty years on, nothing has changed and I have been involved with the Scout Association and Duke of Edinburgh Award, completing my Chief Scouts and DofE awards, amongst others like the John Muir Awards. With my continued working as an outdoors and expedition leader, as well as an outdoor journalist with MyOutdoors - testing and reviewing equipment. So, I know a few things to help both the professionals and those new to the outdoors.
It's worth highlighting, equipment is a very personal thing. What works for me, won't work for you and vice versa but sharing our experiences helps influence us to craft our kit lists.
I am by no means close to a lightweight backpacker and wild camper. I value practicality and usability over how light something is. With each item is the weight and here are some rough guides for my base weight, consumables and photographic equipment:
Summer set up
at 10kg using a tent.
Bivvi bag set up
at 7kg. Finally,
Winter set up
at 11.5kg.
Now, you may be confused as to why my 'Summer' and 'Winter' kits are so close in weight. This is because I use 4 season equipment throughout the year. This means the weight of my tent, rucksack, sleeping bags, sleeping mats and stoves don't change between the seasons. This is because I often work in mountainous regions which are unforgiving and tough to work in no matter the time of the year. It maybe 24ºc in the valley at the bottom of the mountain, but I've seen snow and sub zero temperatures across the mountains in North Wales and Scotland in June and July, which is Summer in the UK. Hence the 4 season kit.
I will also highlight that, I do not use any down jackets or sleeping bags. All my equipment is synthetic fill, which is better suited to the UK environment which is traditionally damp and cold. Synthetic insulation continues to provide heat and keep you some what dry. Whereas Down fill, despite being treated can lose its warming properties and can be damaged when wet.
So essentially, if it can hold up in a storm and keep me outdoors 365 days of the year then that is far more beneficial over some 700g tent, or 150g super down jacket which can only be used in fair conditions. Where's the fun in that?
Below is my kit list which keeps me outdoors, whatever the weather, continuing to photograph, out hiking or scrambling up mountains come rain, sun, snow or gale force winds. To help, I have broken down each section with handy tips under the descriptions as to why you need these items and reasoning.
This page contains affiliate links to some of my brand partners.
Where do you begin with equipment needed for camping and hiking in the hills and mountains of the UK? Before setting off, its useful to write down what you need for the days you need. This will help prevent any unnecessary kit falling into your rucksack.
Feel free to copy and paste the below and create your own tick list for your adventures.
Another aid which will help manage your kit list and weight of that pack is using Lighterpack.com
Rucksack (day up to 35litre / expedition 50-70 litre)
Waterproof liner (dry bags)
Waterproof jacket
Waterproof trousers
Maps and GPS
Compass
Torch plus spare and batteries
First aid kit
Blister plasters
Whistle
Survival bag
Walking boots
Gaiters (If boggy and wet)
Drink (2 litres min)
Lunch plus spare food for emergency use
Hat and gloves plus spares
1 x spare warm fleece
Sunglasses, sun cream and sun hat
Bug spray plus head net (net optional)
Flask (Cold weather)
Watch
Small amount of money
Sleeping bag (3 season minimum)
Sleeping bag liner (optional)
Insulation mat (sleeping mat R-Value of 3+ minimum)
Spoon, knife, folk (spork - metal only to avoid breaking)
Bowl, mug and plate
Brew kit (hot drinks - tea, coffee, hot choc etc)
Food
Clothes (2 days = 3 shirts, two trousers, 3 underwear, 1 jumper / +1 for each day is generally a good guide)
Spare socks
Wash kit and toiletries (keep to minimal: tooth brush + paste, roll on deodorant) Biodegradable toilet paper and trowel.
Tent
Stove and pans
Fuel (meth or gas)
Lighter, matches and spares
Spare map and compass
Penknife
Duct tape, laces, string
Mobile phone
Power bank
Spare warm clothes
Camera, pen, paper etc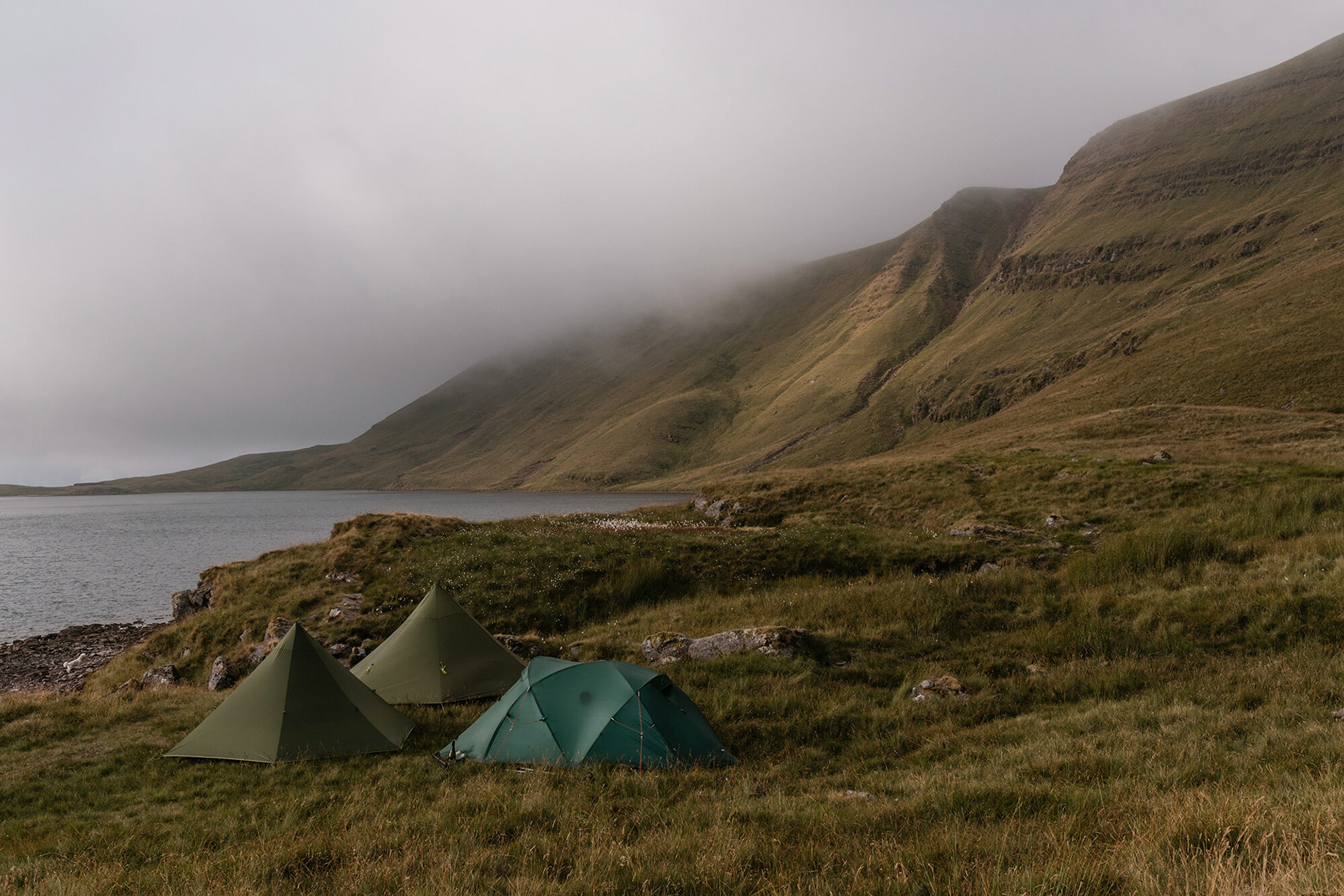 Photography gear for camping, hiking and mountaineering
I'll start with my photographic equipment and get what is the heaviest part of my kit out of the way first. As a somone who enjoys camping and climbing mountains. Weight and size is a big factor in the kit I use. For this reason, I use a Mirrorless system and Micro Four Thirds camera from Olympus (OM Digital Solutions) for my photography. It's lightweight, small and robust, plus weatherproof, so I can be out whatever the weather and better yet it won't add a silly amount of weight or size to my already heavy and limited space available in the rucksack.
As a landscape photographer, the Olympus High Res Mode is a great tool to use, I can get 100 megapixel files from one capture and gather as much information for later in post-production which gives me working files similar to that of medium format when stacked. When I don't need High Res Mode, the blazing fast 18-60fps is plenty to capture what I need. The addition of in camera charging means less batteries and fuss, amongst other handy features for out in the field. Such as 7.5 stops of in body stabilisation, live simulation ND filters and Starry Sky Auto Focus. Which further reduces my pack weight as I don't need as many filters or even in some instances, a tripod altogether.
As I am out whatever the weather, I need to have lens which are weather sealed, like my camera, my lens are all weather sealed and I use the Olympus Pro lens line up and opt for zoom lens over primes to avoid changing lens as little as possible. Between my two lens, I have the range of 7-100mm f/2.8 – 4 (14-200mm equivalent on full frame body) which is plenty for covering everything from the Milky Way, meteors and stars, landscapes and travel or chasing ultra trail runners across mountain tops or shooting products and interviews for my design work. Better yet, all of this kit weighs less than 2kg and is weather sealed so perfect for any time of the year! Did I say weather sealed enough times?
Camera, Lens and accessories
Olympus OM-D E-M1 Mark III = 609g
Lexar Pro UHS-II Pro 64GB SDXC memory cards x2
Olympus M.Zuiko 17mm f/1.2 Pro = 390g
Olympus M.Zuiko 12-100mm f/4 IS Pro = 614g
Peak Design Clutch hand strap CL-3 = 50g
Peak Design Capture Clip with Pro Pad = 100g (Camera clip for rucksack)
Peak Design Shell rain cover = 110g (Rain cover for the camera)
Lens Heater Wrap = 100g (Cold nights for astronomy photography)
Microfibre cleaning cloth
Kingjoy SolidRock C85 tripod = 2400g
Kase Tripod Leg Covers = 50g
Lowepro Adventura SH 120 II = 200g
Photography Filters
I stopped using square filters a number of years ago. Sick of the filters getting damaged, extra weight and cost which comes with large 100mm filters and with a Micro Four Thirds system, 100mm is a little overkill. So, I opted for circular filters which are lighter, more compact and when in use can be kept safe and dry by hiding them inside the lens hood. Perfect huh!
My post processing style suits this style of filter as I take multiple exposures and blend them together in
Adobe Photoshop or Lightroom
. Essentially my photos are composites of multiple photos with silky smooth water, removing horizons, moody skies and so on.
I also use a special edition filter in collaboration with Alyn Wallace and Kase Filters. The Starglow filter, which as the name suggests, adds a soft glow to stars and allows you to pull more detail out of constellations in the night sky. The benefit of this filter is, you don't need to use a filter holder and can simple wave the filter in front of the lens to add the desired look you wish.
Kase Wolverine Magnetic Circular Filters Pro Kit (3, 6 and 10-stop ND, Polariser, Adapter and carry pouch) = 100g
Kase Wolverine Alyn Wallace Starglow 100mm filter
I am a Kase Filters UK Partner. If you are interested in purchasing filters, please visit
my affiliate link here
.
Outdoors equipment for camping, hiking and photography
Rucksacks for hiking, camping and photography
This is possibly the biggest challenge when it comes to the outdoors. There is so many options with the overall look and styles, features, size and comfort levels. It can be overwhelming when you first begin your search. The first thing you need to do, is ask what you hope to achieve with your rucksack. Is it hiking, photography, SUP and sailing or evening rock climbing and caving? Each will have a style and numerous features to help. Mine are for using with hiking, travel and photography.
I typically use a 40-50L rucksack, which is plenty for me and my kit. However, 40 litre rucksacks can be too small for some and if you're unsure about what kit you need then I suggest bigger is better and aim for a 50-60L. This way you can clamp down any extra material, you can't magic more rucksack to appear if too small. Here are some of my personal favourites I've used in the past which have been really good and used for all sorts from Duke of Edinburgh expeditions to general day hikes and wild camping in the mountains: Vango Sherpa 70, Lowe Alpine AirZone Pro 40-50L, Osprey Archeon 40 or 70L Rucksacks or the Snugpak Endurance 40L rucksacks.
Here is where things get really frustrating. One bag doesn't fit all the needs. A 70L rucksack isn't going to be great as an everyday bag. That would be a lot of wasted space and effort, so I use a variety of bags for different requirements and times of the year.
My go to everyday rucksack and for overnight trips is my Home of Millican Fraser 32L rucksack. It's a good sized pack which can be strapped down for a slimmer profile, suitable for day walks where you just need a jacket, camera and flask to hit the hills. I can also open the pack up and use it as an overnight pack for single night or weekend trips in the bivvy bag with a lightweight minimalist set up.
The
Snugpak Endurance Tactical Rucksack
which is a 40L pack, swallows kit and pretty sure its larger than a 40L, almost everyone who owns and uses one will tell you similars. It's lightish at 1400g and very tough with 600D heavy duty nylon and MOLLE webbing on the exterior. This is my typical go to for camping trips in the mountains and hills, or longer trips as I can add additional kit like my winter kit or larger tents, more food and water should I need, or tie it down for a slimmer profile. I've maxed out this rucksack and carried 35kg up some of the heightest peaks in the UK and still holds strong.
Drybags
Not all bags are weatherproof or come with waterproof covers, as such your rucksacks should be lined with drybags to further protect your kit inside. They are cheap, lightweight and in all Duke of Edinburgh or Scout expeditions we won't allow groups to go out without them. They also help divide your rucksack in to dry or wet, for example if you have a wet tent and dry warm clothes inside.
When it comes to keeping my camera safe inside the larger 70L rucksacks I use what is called an ICU or Internal camera unit. This is a small padded, lightweight pouch which can store all your electronics inside. Another great option should you want to save weight is to use a fleece or jacket. The added benefit of using a set up like this, allows you to chop and change rucksacks very easily as a photographer. You may notice I don't use "camera rucksacks". I personally find them impractical and heavy. Most typically have the entire innards dedicated to camera kit, which as someone who enjoys the outdoors is not helpful when you have to carry extra kit like stoves, jackets etc. Granted my choice of rucksacks aren't the lightest on the market but compared to some camera packs these are lightweight and far more practical.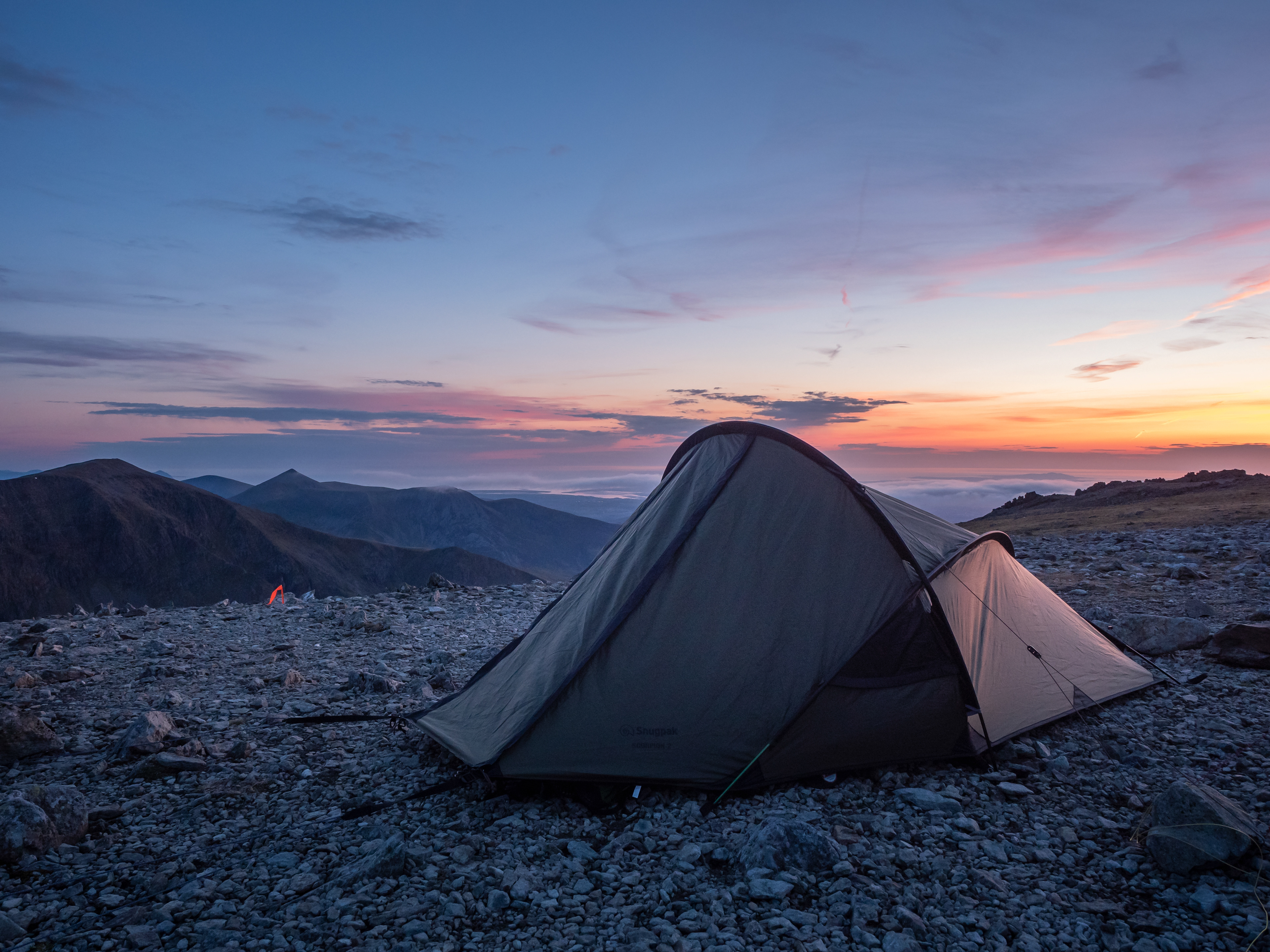 Tents and shelters for wild camping and mountaineering.
Most campers use a tent as this is easier and offers the protection they need, most can be erected as one or often built from the inside out. Tarps are a little more creative and if you've never used one before I suggest practicing first and finding a set up that works for you.
Tarps
are lighter than tents and great for those using a hammock and bushcraft style of camping. (It's worth noting tarps require a walking pole to make them stand up, or a tree close by to fasten rope too).
The other option is a bivvi bag, this isn't for everyone and for the somewhat hardy or mad bunch of us out there. These are possibly the lightest option and come in a variety of styles from traditional bivvi sacs like the
Snugpak Special Forces Bivvi
, which may require a tarp or shelter to cover your face if it is raining and poor weather, or a different style and possibly the better option is an enclosed hooped bivvi such as the
Snugpak Stratosphere
.
Tents coming in single wall or double. In the UK, I suggest a double walled tent. This provides better protection from the wet which is vital here in the UK. They have more room and more protection versus a single wall which is prone to condensation and better suited to Alpine conditions.
Personally, I am tents kind of guy. As I'm typically camped up on mountains rather than down below. I need a shelter that won't fall over in the wind and can hold up to the rain and snow. That said I do swap to a tarp or bivvi when the mood strikes and conditions allows me. My tent of choice is the Snugpak Scorpion which is a 4-season tent, it's solid as a rock and great in any weather or storm, even in blizzards and 40mph winds! Better yet it has the room to spread out and allows me to cook in the porch should it be wet and miserable out.
Some other options:
Vango Torridon 200 (4 season, 2 man tent)
Snugpak Journey Duo
(3 season, 2 man tent)
Snugpak Scorpion 3
(4 season, 3 man tent)}
Snugpak Bunker
= 2800g (4 season, 3 man tent)
Vango Banshee 300 Pro (3 season, 2 man tent)
Terra Nova Southern Cross tent (4 season, 2 man tent)
MSR Access 2 (4 season, 2 man tent)
Sleeping system for wild camping - Sleeping bags and Mats
As someone who spends a great deal of my time wild camping in mountainous regions, I use one bag for most of the year. This being a 4 season sleeping bag. Why 4 season? Mountains are high and even in the height of Summer at 1000m above sea level, gusting winds and a clear night left frost on the tents. Yes, frost! Although it is 32°c at the foot of the mountain during the day, it certainly won't be at the summit during the night, so for this very reason a 4 season sleeping bag is a must for these environments.
Sleeping bags come in two main fill types: down or synthetic. Down is often more expensive, generally lighter and more compact versus synthetic but down bags are useless if they get wet. Recently companies have begun using hydrophobic chemicals to counter this. Synthetic filled bags are generally heavier and are also considered much tougher versus the down equivalent bags. Neither is better than the other, both have their pros and cons. I typically use synthetic bags because they are a lot cheaper and I don't mind the extra weight or bulk and being based in the UK where it is typically damp. Synthetic bags are better suited to our British climate.
An example of a down bag versus synthetic. (I own both these bags).
Snugpak Special Forces 2 sleeping bag
Fill: Softie (synthetic)
Comfort rating: -12°c
Weight: 1.8kg
Cost: £170
Fill: Hydro-barrier down
Comfort rating: -12°c
Weight: 1.2kg
Cost: £370
Sleeping mats
Sleeping or camping mats aren't just for comfort. A sleeping mat's primary use is to stop the ground from zapping the heat from your body. Did you know lying down you can lose some 65% of your body heat through the ground, a mat with a high R-value (4.0 plus) stops this and ultimately stops you from getting hyperthermia. Mats come in all sizes and types from foam, down fill, fold up, self-inflate or running in the wind to fill…
Did you know, sleeping bag temperature ratings are tested using a sleeping mat with a R-value of 4.0 and the user in base layers. So, if you're ever cold at night and using an expensive sleeping bag and cheap mat yet you're still cold. It's not the sleeping bag which is the problem.
Just to confuse things further, not every company who make sleeping bags and mats use the R-value rating system, so use these as a guide only. No unanimous ruling has been applied in the outdoor industry when it comes to temperature rating equipment. Sorry!
I use two different filled mats, again to benefit me during certain times of the year. The Snugpak Travelite Self-inflating sleeping mat which is a foam core mat which is light, comfortable, good value for money but is a little thin at 3cm thick. During Winter I use a Snugpak Antarctic Softie Reflectatherm filled roll mat which is better for colder conditions as it won't crack like rubber-based mats in sub-zero temperatures.
Another option is Exped Downmat or SynMats or Klymit UL downmats. A downmat which although expensive is warm and lightweight. However, I've had many a bad experience with down filled and inflating mat's like this. All of which have deflated in the night which is why I have opted for foam core mats. Returning back to a basic/simple set up from my days with Scouts.
A useful extra to pack for winter camps is a Silver foil blanket. Use this under your sleeping mat to reflect the cold away from you. It's surprising how much of a difference this can have. It also makes for a cool light show in the tent with a torch. If you are still cold, consider using a down mat with a foam core mat below, this will vastly improve the rating of both mats and provided extra protection for the inflated mat as stacking the mats increases the R-value. 1st mat = 3.5 R + 2nd mat = 2.5 R Total = 6 R.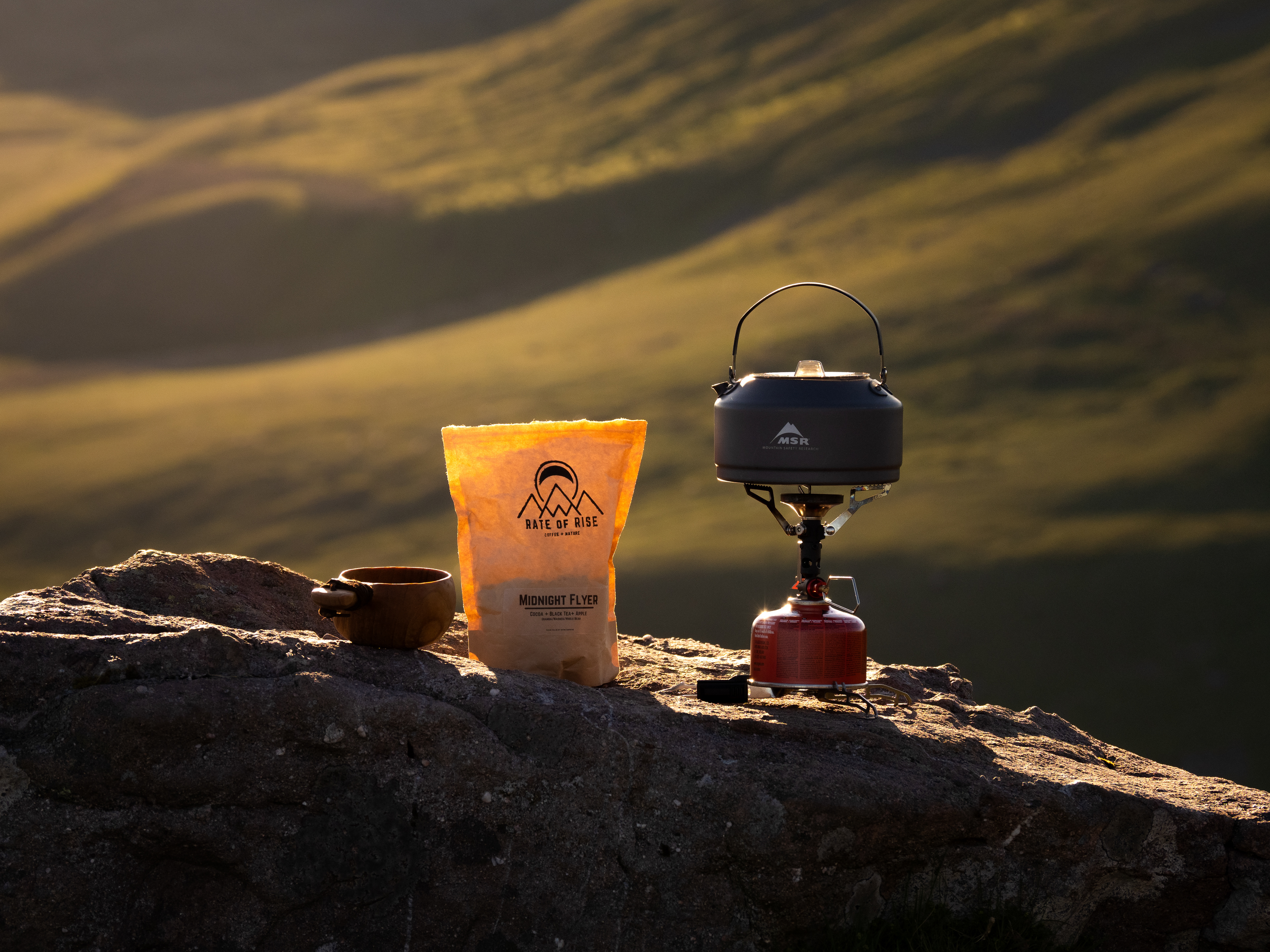 Cooking in the outdoors when hiking and camping
Camping stoves come in all varieties and sizes. If you're a coffee connoisseur, then this will dramatically impact you and the choice of stove is crucial to you. I don't use instant coffee and use beans and ground coffee so I need filters or a press. I've used lots of stove varieties over the years from the all mighty and indestructible Trangia in which I've seen a 20-year-old set, battered beyond belief and looked ready for the bin, yet was still working perfectly. Trangia's are heavy and bulky but great for groups such as Duke of Edinburgh or Scouts expeditions as they are larger and better suited for group cooking situations. There also pretty childproof and mountain proof, as I explained above. The Trangia can be adapted to use liquid fuel (Meths or gel) or gas.
Gas stoves are easier to use, faster and have great control over. So long as you can find the gas canister to use said stove. If you're travelling abroad you cannot take the gas with you and sourcing the gas in the right canister can be impossible at times. Here liquid bottles for fuel have the advantage. The MSR WhisperLite is a dual fuel stove so you can use gas or liquid, but stoves like this are heavier and expensive.
For soloists, a complete system is often the preferred method. Some of my favourites I've used in the past have been: Alpkit Brukit, Colemans Fyrestorm PCS or Jetboil Zip. I use a smaller set up, designed for backpacking which is the MSR PocketRocket Deluxe with the MSR Trail pot which is more than enough for me to brew up a coffee and boil water on the fly and can store everything in the pot, including the gas!
On that note, don't forget the gas!
I don't use matches anymore and never carry a lighter. Both can fail pretty easily, lighters needs refilling or don't work in the cold and wind. Matches, if they get wet or the strike pad gets crushed they are impossible to use. Instead I use a flint and steel. They can be used in winds, wet and has yet to fail on me. This is just used as a back-up, should my stoves ignition switch not work.
When wild camping or hiking in remote areas you are often restricted to how much you can carry, so plan to visit a water source or camp near one if you can. A vital tool for anyone serious about the outdoors and camping is a water filter. I previously used a Sawyer Mini Water filter but have since swapped to a MSR Trailshot. Both filters allow the user to drink straight from lakes or rivers with no worries of dirt, pollution or any nasties in the water. I swapped to the MSR Trailshot so I didn't have to plunge my hand in to the cold water in order to fill the water pouch and squeeze the Sawyer Mini filter.
If you are stuck and don't have one of these filter systems, you can also boil up the water from a water source. Two issues you have with boiling the water direct from the water source is, the wait for it too cool down and you have to be wary of any pond life, plants and debris getting in to the water. Another option is using chlorine tablets but these can make the water taste odd and after five days on expedition you'll be wishing for fresh spring water and cold water running from a tap! So for all intense and purposes. Just buy a water filter. Less fuss and tastes nicer.
I must add, it has to be running/moving water. i.e. from a lake or river. Not puddles or any water near farms or livestock.
Cooking Set up:
MSR PocketRocket Deluxe = 80g
MSR Pika Kettle = 128g
Handmade Custom Kuska cup = 40g
MSR ISO pro gas = 110g
MSR universal gas stand = 30g
MSR Strike Lighter = 35g
MSR cutlery = 20g
True Utility Bare Knife = 16g
Water:
Platypus 2x1L folding bottles = 48g
MSR Trailshot water filter system = 142g
Coffee Set up:
Delter Coffee Press + Metal Filter = 200g
Rhino Tall Hand Grinder = 350g
MSR Mugmate = 28g (Lightweight option)
Food for hiking and wild camping
Never skimp out on food, if you're out in the mountains climbing all day or walking 12 plus miles you will burn a lot of calories and you need the energy. It's important all year round, especially in Winter! Warm food before bed can make a huge difference to your wellbeing and comfort.
I know someone who only took Cup-a-soups and a handful of chocolate bars on expedition and already by day two he had to get emergency food and taken to a shop because they made themselves ill. Yes, he was deferred for this during is Duke of Edinburgh expedition. Another only bought canned food, stupidly didn't bring a can opener either. Essentially plan your meals and what you will be eating. Aim to get your full 1,600-2,000 calories a day if hiking. For some it can be more.
My choice of food is dehydrated food packs where you just add water. I often buy Firepot packs as I've found these to be the highest calories to pack weight and best tasting, they also have a great selection of Vegan options. But they are more expensive than most you will find on the market but well worth the extra £1 in flavour and nutrition. Another great option is TentMeals, these are a dry option full of energy, sugar, salt and all the goodness you need but you will need a pot to rehydrate the food in.
If you are on a budget then AdventureFoods is another great choice with plenty of options for breakfast, hot foods, cold soaking and desserts.
Snacks - Cereal bars, flap jack, nuts, fruit bars, graze mixes, you want high calories and nutritional packs again. Gummy bears and Haribo are also great to store in your pocket for on the go. A little sugar goes a long way when you're tired on a hike.
I typically keep a bunch of bananas in the boot of my car when out so if returning to the car I can have fresh fruit. I also can dump and leave rubbish in my car. Please don't leave your apple cores or banana skins on roadsides or in the hills. If you hadn't noticed the lack of abundance of apple and banana trees about the mountainous regions.
On Snowdon, it takes 3 years for a banana skin to decompose, by which point livestock and wildlife will have eaten it and become ill.
Leave No Trace. Think Nature First.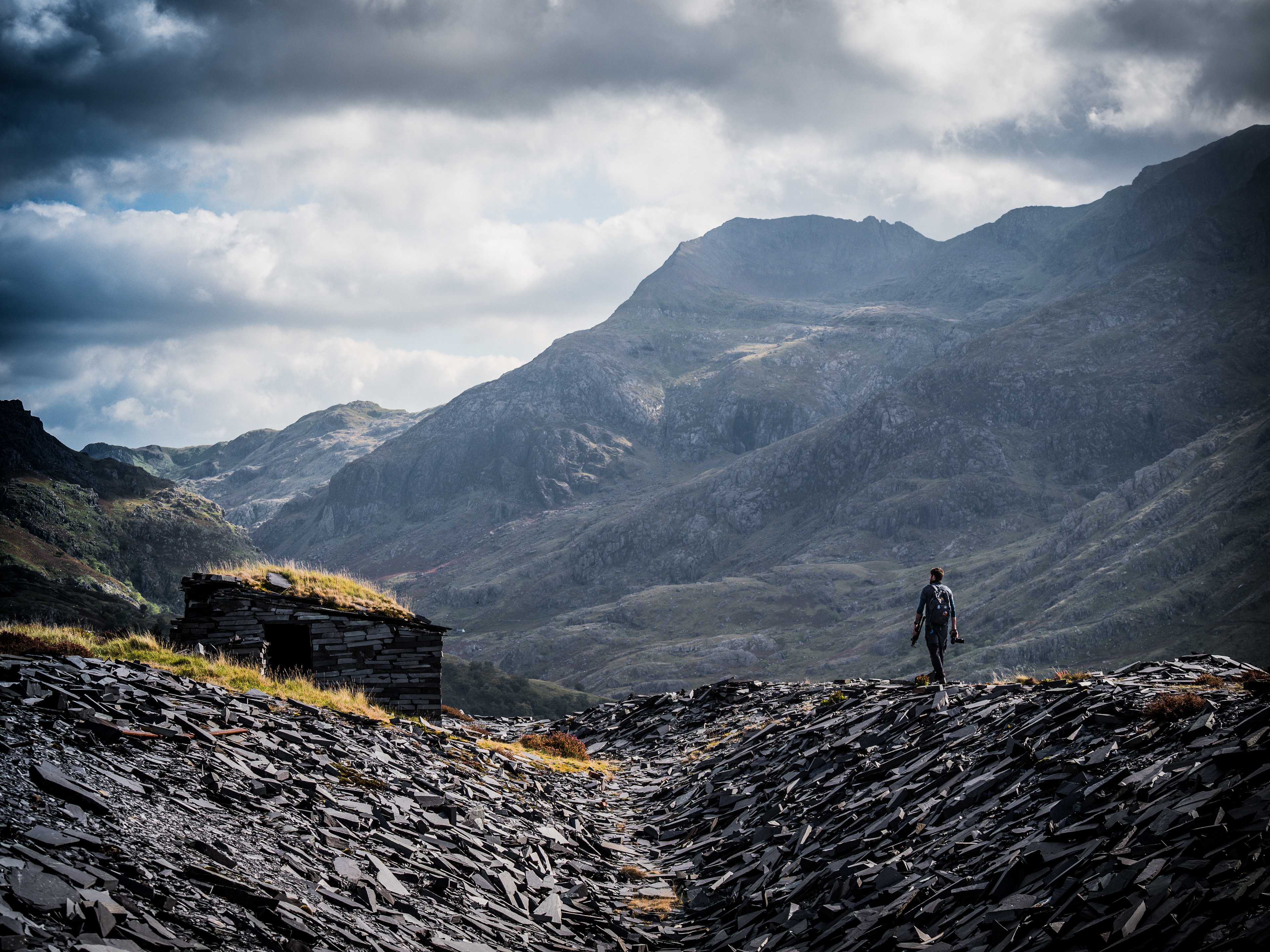 First-aid kit & accessories
You should always have one packed, but I don't mean the red bags you get from hiking stores. I was taught by another Expedition leader to pack the essentials and make a personal first-aid kit. It's still in a bright red pack, stored at the top of my pack and is no larger than a wallet. Inside there are plasters, blister plasters, sterile wipes, multi-tool, USB cable, foil blanket, tick remover, bite cream, tissues, pain killers, duct tape, batteries plus a few snacks for emergency.
As you will see it is a mixture of items and is a personal set up for myself with everything I know I need in a first-aid situation. If I need to start putting on bandages or slings it's a sign you need more help and need to go to the hospital! This set up for small cuts, grazes or bites, not for broken limbs. I will be calling Mountain Rescue in that situation.
Always pack a pocket sized sun cream and bug spray. Firstly, the sun's harmful UV rays aren't just around for Summer, they can effect us all year round, even in the depths of Winter. Bug spray is useful all year round too. The UK is wet and in low, sheltered valleys, especially near water the little pests can still be seen. Smidge sell a credit card sized bottle which slips inside a first-aid kit. Perfect for any occassion.
A vital piece of kit all year round. Especially during the dark winter months when the days are short. Head torches are best as it keeps your hands free to do other required things. Ever tried pitching a tent with a handheld torch? Give it a try, I bet you last 10 seconds without getting frustrated and launching said torch in to the distance. There is a huge selection to pick from on the market, the most popular typically being the Petzl Actik Core which has a rechargable battery sold seperately but this can work out rather expensive for the two items, so I opted for cheaper alternative which is less fuss.
Alpkit's Qark rechargable headtorch which can only be described as a small sun at full power. With a whopping 580 lumens you can be seen for miles. It also has a red light option which I personally love, as it makes astro photography a lot easier and doesn't ruin your eyes 'night vision'. Which takes approximately 30-45 minutes to adjust so you don't want to ruin that and wait again. A lighter solution which is popular with Thru-hikers for its weight and battery life - Nitecore NU 25 headtorch, which weighs a mere 31g and powerful enough options at 360 lumens and multiple modes in white and red light. Makes it a brilliant lightweight option for camping and hiking.
Passenger Clothing cap = 60g
Polarised Sun glasses = 50g
Hord.co beanie hat
= 65g
Sealskinz Waterproof All Weather Shooting gloves with Merino Liner gloves = 175g (Cold weather)
Black Diamond Dirt Bag Leather gloves = 190g
Olympus Golden Light Buff = 30g
Smidge Insect repellent wipes & Smidge bug net = 100g
The Tentlab Deuce UL Trowl & Biodegradable toilet paper = 50g
Alpkit Qark 580lumen Headtorch = 85g
Outdoor Tech Kodiak 2.0 Powerbank = 180g Waterproof powerbank with torch
Garmin Instinct Solar GPS watch = 45g
Moorswood + Home of Millican Limited Edition Ramblers Roll
= 60g
Navigation - Digital and paper map & compass
Google Maps isn't enough to get you by in the mountains. For one there is little to no signal and to run Maps on your phone requires a lot of battery power and if it's cold your phone will lose power even quicker. You often read horror stories where the user had 40% then the phone died. It still has 40% but the cold got to it.
So, always pack a map and compass regardless. They're small, light and there is no excuse not pack one. By all means use a phone or GPS as additional aid but paper never runs out of batteries. They also make useful seats on wet benches.
On that note, it's worth spending a little extra to get waterproof map, if not buying a waterproof map case will help make your maps last longer. Anotther great option is Splashmaps, which are fabric which means they are more compact, light and their waterproof. They also make great toobs or hats should you need one.
If you're going to use a phone for GPS and navigation in the outdoors use an actually navigation app like OS Maps, Fatmap, Outdoor Active, Komoot or Maps.Me as you can download areas which means you don't need data or be connected. They run on GPS only which means your phone will last a little longer. It's also worthwhile packing a power bank to get extra juice when you need it.
I personally use Fatmap. With a lot of features available for free like 3D view, fly through and advanced plotting in Open Topo maps, Satellite View or under the subscription plan, gives you access to global Topo maps and OS Maps and more content. Fatmap is great for hiking, mountaineering, cycling, skiing and winter sports, giving you advanced planning at the click of a mouse.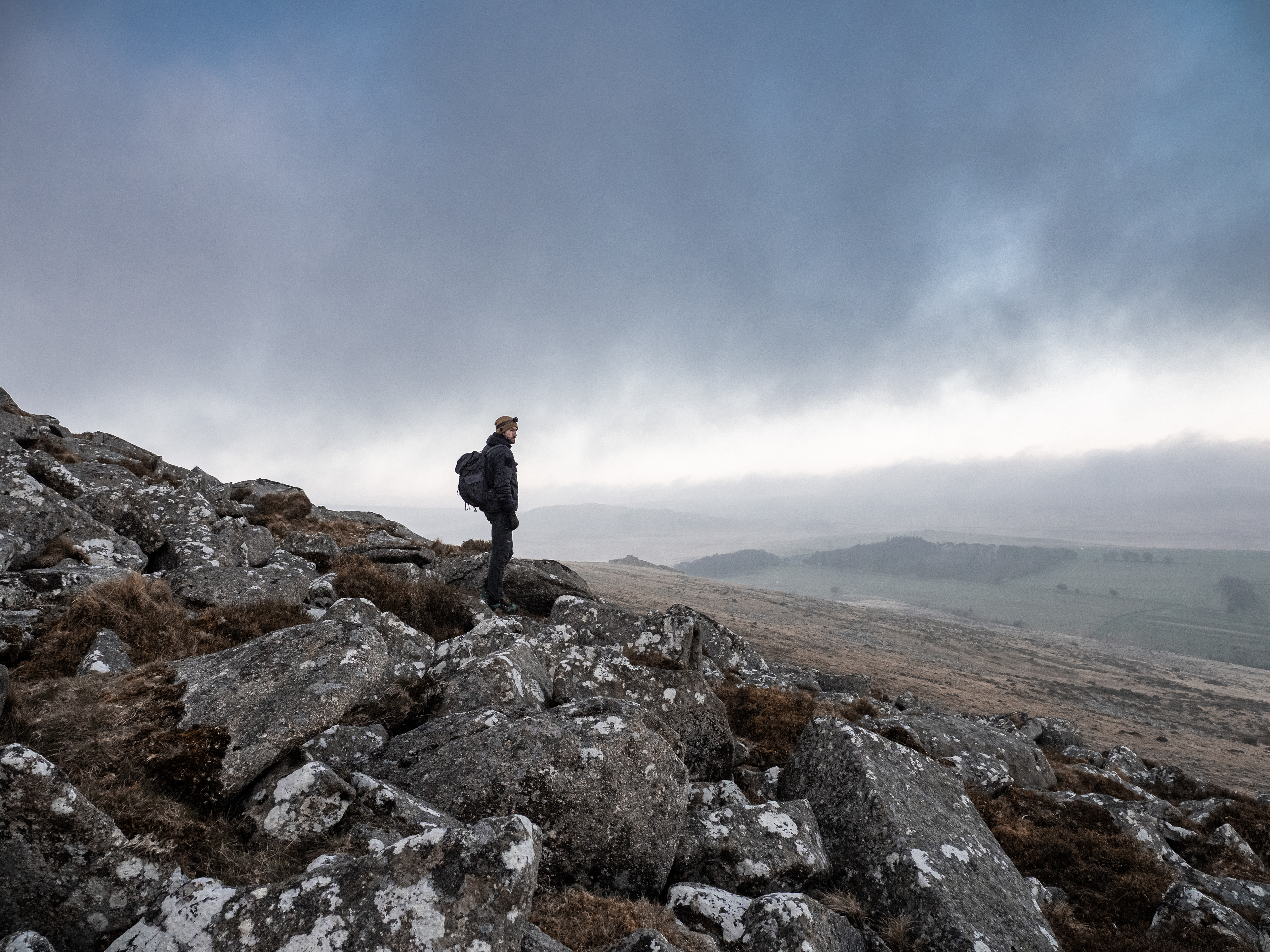 Clothing for hiking, camping and mountaineering
The multilayer system – Baselayer next to the skin, midlayer for warmth, a down jacket for further warmth as an outer layer with some weather protection and finally the waterproof jacket as the complete package.
Of course all come in a variety of thickness and qualities. Some of my midlayers and jackets are weatherproof and suitable in short showers or offer further protection from the wind. It's worth having a few styles for example I use long sleeved baselayers for Winter. Zipped fleeces are good for Summer, whereas over the head fleeces can be better suited in Winter with less openings.
With baselayers it's worth looking for fast drying, wicking tops these are better suited for activities such as hiking in various conditions and reduce sweat and keep you comfortable after long wear. Your normal T-Shirts you buy which are polyester and not quick drying and absorb sweat which can cause further rubbing and rashes. Mid-layers like a fleece make great pillows if you are looking to save weight and reduce pack size by not carrying a pillow.
Similar to my sleeping bags, my outer layers or jackets are synthetic insulated fill. Being based in the UK, where by the climate and conditions are damp and very wet. Synthetic works better in these conditions. Down is fantastic, lightweight and compact but when wet it is virtually useless.
You should always pack a waterproof jacket no matter the time of year. You should look for not only a waterproof jacket but also breathable, this stops you from getting damp inside.
There is a key difference between "Waterproof" and "Weatherproof" - Waterproof is as the name suggests it is waterproof and can withstand rain and wind for long durations, often with higher ratings such as 15,000mm/ 10,000mvp. Weatherproof isn't to the same level of protection, it can withstand a short shower and many offer some degree of warmth and wind protection but shouldn't be used in heavy rain for long periods. They will eventually fail and you will get wet and cold.
In colder months you will need something more robust and warmer. Go for a helmet compatible if you plan on climbing and cycling. One with a stiffened peak, adjustable cuffs, hoods and hemlines all help with the fit and keep you better protected. Waterproof zippers will help but all zips leak so don't put any expensive items like mobile phones in external pockets, especially in winter. Keep your electronics stored in the midlayer to stop the battery from being zapped.
There is a few varieties of waterproof jackets too. Soft shell, Hard shell and Directional fabrics.
Soft shell which are weatherproof typically and only suitable for light showers. Use these for when trail running and sticking local or as a midlayer when conditions are bad, this is because they are more breathable and allow sweat and moisture out or providing water resistant layer and warmth.
Hard shell jackets are waterproof, the outer layer traps body heat in and doesn't allow moisture to get out, meaning water cannot get in either. These are great when the weather turns and it's extremely wet outside. As they're are not as breathable as soft shells you will notice when working hard you will get sticky inside.
Directional fabrics such as the Paramo Clothing Nikwax fabrics work like animals fur and body, moving the water out. Trapping water in the outer layer, with the internal layer pushing the moisture out, clever stuff eh! This is perhaps the most expensive of the three styles and also requires the most work, with regular reproofing and keeping clean. Hard shells for this reason are the typically the 'best' and less fuss, but many Mountain and Outdoor leaders like myself opt for Paramo Clothing because of the breathability and ability to open up the jacket whilst providing maximum protection from the elements.
Snugpak Enhance Patrol Poncho = 360g (All Year) (Water/Windproof)
Simond Mountaineering Alpinism Jacket = 570g (All Year) (Water/Windproof = 30,000mm)
Paramo Velez Evolution Hybrid Smock = 720g (All Year) (Water/Windproof)
The layering system isn't just for the top half, I use a variety of trousers or tights for different seasons and conditions in the year. In warmer months, running and cycling Trail tights are perfect but I always pack a pair of quick drying hiking trousers for backup. In colder months thicker hiking or snow trousers such as the Rab Vapour Rise Guide trousers are perfect as they have fleece lining to keep you warm but a tough, water repellent exterior to provide protection from the elements and outdoors. If you get really cold I suggest layering up below these Winter trousers with another pair of Trail tights or fleeced trekking tights.
Something else to consider is packing is over-trousers / waterproof trousers for longer expeditions and severe weather. I suggest getting zipper or buttoned over-trousers so you won't have to remove your boots in order to put them on. I will pack these regardless the time of year.
Paramo Mountain Pro Trousers = 810g (All year/Wind Resistant)
Waterproof Over Trousers = 150g (All year/Waterproof)
Winter Equipment for hiking
So, you may have heard the term "Full Winter kit required". That doesn't just mean gloves, scarves, hat and thick jumpers. The term also refers to extra equipment which is a must in winter, certainly in the mountains. These extra items are crampons, ice axes and hard hats. Generally if you need the crampons, you need the axe too.
Crampons don't fit all boots and you have to look for a 'mountain boot' which is listed as B1, B2 or B3 rating which matches the crampon ratings: C1, C2 and C3. C1 is for general hill walking and low level. Good for entry level winter walking. C2 is for more technical ridges and start to climbing, C3 is for complex and technical climbs. If you don't know how to use any of this kit, it is highly recommended booking on to a Winter Skills course, whereby you can learn how to walk with and using crampons, how to use an Ice axe, self-arrest and climbing and working in the snow/ice.
Crampons come in a range of scales and how they are clipped on. With plastic bails or heel welts which require a rigid boot with a heel step on the front and/or rear. Crampons also have various number of points (The spikes) ranging from 10-14 depending on the technicalities you need. The more spikes the more technical and the more specialist a boot you require. I.e. Grivel G1 crampons are C1 rated with 10 points and typically with plastic bails. Grivel G14 is a C3 rated crampon and for ice climping and typically seen with front and back heel welts.

Grivel G12 12-point crampons New Classic (C2 rating for B2 or B3 boots) = 1000g
Along with a good pair of mountain boots which are crampon compatible, you will need several other items to help keep you up right and keep you safe in the poor conditions. Generally if you need your crampons, you will need an ice axe. This is used to help you for support when walking up hill in zigzags in the snow. Used for a self arrest, whereby you stop yourself from sliding down the ice/snow on a sharp edge.
With the risk of slipping far greater, you need to think about protecting your head, so a climbing helmet or mountaineering helmet is adviced in particularly poor conditions.
Ski goggles or eye protection. In winter the weather worsens and obviously gets colder and exposed on the mountain tops or even lower valleys wind and gusts can pick up snow and ice and make visibility difficult. It goes without saying as well. A good pair of thick, waterproof gloves are a must! I use two pairs in winter, one for general walking and use with my camera kit - Sealskinz All-weather Shooting gloves. These are excellent for keeping my hands warm and using camera kit in the cold but when it comes to climbing and more technical work on the hills. I swap to my Black Diamond Dirt bag gloves which are full leather, waterproof and super tough! If it's especially cold I will pop a set of hand warmers inside my gloves to help or adding a thinner merino wool glove below to layer up.
Simond Naja Light Mountaineering Ice Axe = 460g
Simond Mountaineering helmet = 180g
Ski/Snow goggles for poor conditions = 60g
Terra Nova Nova Gaiters = 200g
Black Diamond Dirt Bag leather gloves = 190g (Waterproof/Winter rated to -10ºc)
Hot hands warmers = 80g (Keeping your hands/gloves snug or useful for keeping batteries and phone warm in cold weather)
Another thing to remember is navigation! I pack two maps in winter, an OS map or Splash Maps inside the pack and a smaller laminated cross section in my jacket, as well as the compass tied to a zipper for quick access. I never use my phone in snow/sub zero conditions for navigation. The cold will sap the battery almost instantly, so this is stored inside a dry bag, easy to access inside my rucksack.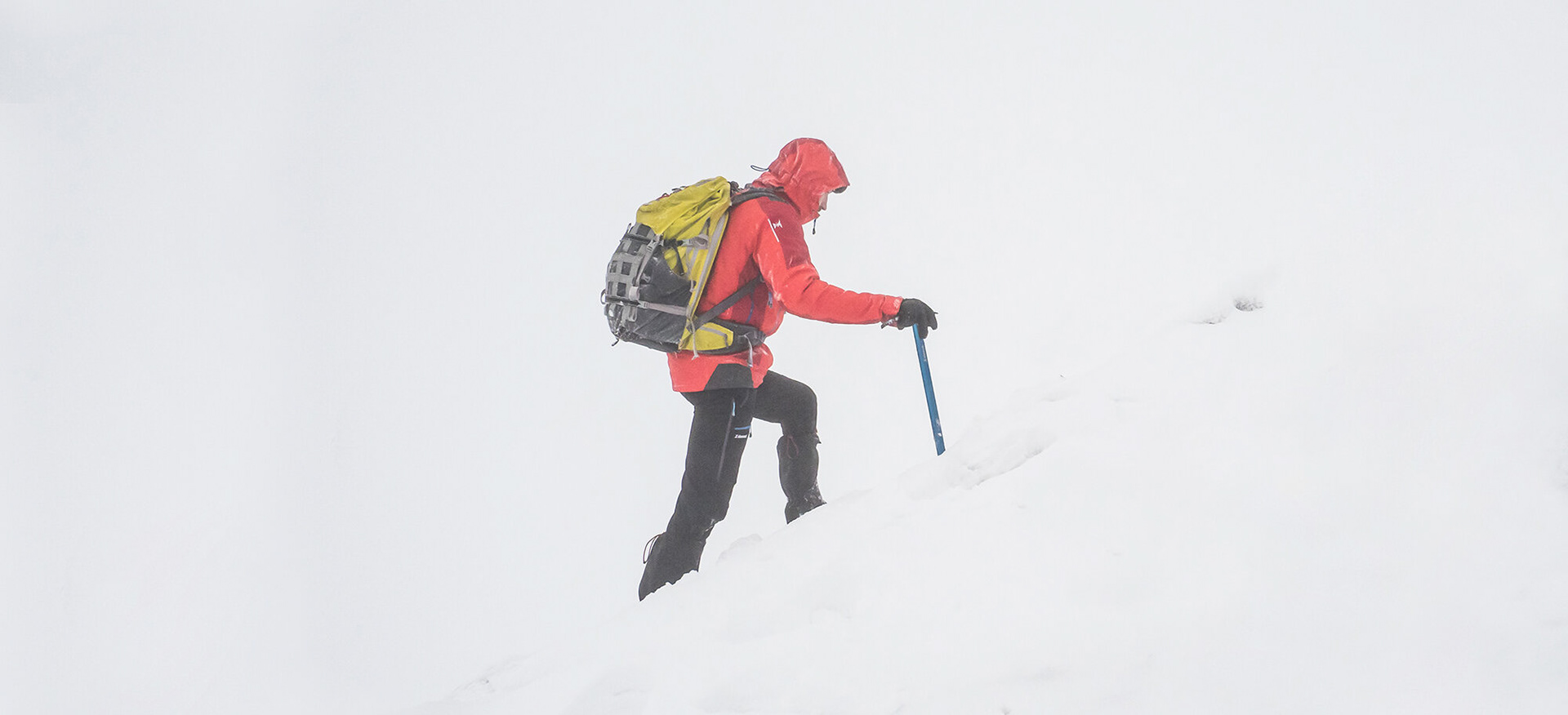 Footwear for hiking and mountaineering all year round
When it comes to footwear, you need to try before you hit the hills. For example Salomon's are a popular brand of boots, but I personally do not get on with them as I find them to narrow. Further to which don't cheap out either! Your feet have to take your weight, rucksack and the impact of whatever the ground has in store for you - Ice, bogs, slate, rocky terrain… The list goes on. Investing in a good pair of hiking boots will keep you going for longer and the footwear will likely last a lot longer as better materials are used.
I'm also not like the average user and now I use barefoot shoes for part of my hiking. This took me 6 months of training to transition to barefoot shoes and I had a few injuries along the way in my transition. So, do your research, know your feet and determine what you aim to do. If you plan to go hiking in the snow and climbing mountains, ensure your boot is crampon compatible and know how to use them. If you're a thru-hiker, do you need large leathers? Essentially what I'm saying is no one shoe will fit your every need. That all said, I still use stiff hiking/mountain boots as barefoot shoes aren't always great for some terrain in mountain regions which I experience on a daily basis in Snowdonia or Dartmoor National Parks. So, in all I have 3-4 pairs of footwear I use throughout the year.
Not only will you need a good pair of boots but a good pair of socks! A good pair of socks will stop blisters and reduce sweat and smells from hiking. A good midweight pair of merino wool socks are perfect for hiking and during Summer, a lighter trail sock is perfect when you will be in shorts or low ankle boots/shoes. In Winter, sock liners or thick snow socks are best to keep your feet warm and dry.
Another set of socks I highly suggest everyone to invest in are waterproof socks! Yes, they are a thing and are the best things created since sliced bread. I use Sealskinz waterproof socks and always keep a set in my rucksack all year. Despite GTX and waterproof boots, they all have one design flaw as such. The hole your foot goes in. So, if you begin wading into a river and it's higher than your boots. Your waterproof socks will do the work in keeping your feet dry.
Finally in very wet conditions, bogs and high grass and as wellies are useless for walking in and very uncomfortable for long distances. A pair of gaiters will go a long way, these help reduce dirt and water ruining your trousers, further protect your boot and ankles and help a great deal in boggy environments and the snow. Some mountain boots and trousers have built in gaiters to help.
Below is a list of my footwear I am currently using, however, some of my favourites from the past have been: Berghaus Hillmaster II boots, Anatom multi activity shoes, On Cloud Cloudrock boots, Saucouny Excursion shoes, Aku Trekker Pro boots, Mammut Trovat boots and Mammut Ducan shoes.
Injini Toe Socks
Nordic Socks
Snugpak Hiking socks
SealSkinz Waterproof socks
Terra Nova Nova Gaiters